Top 5 AI Image Upscalers for eCommerce
Now, e-commerce is a booming industry and with it so is e-commerce photography. Photography tip for you to grow your business varies. But taking a fantastic product photo is only half the job. The other half? Photo editing! Simple editing techniques like cropping and compressing would only make the image match the standard e-commerce square shape. You'll also need an image upscaler to increase its resolution and make it clear to see.
5 Best AI Image Upscalers Review
Within this blog post, we'll review the 5 best AI image upscalers to help you improve product image quality through AI upscaling. Hope you find it useful when you plan to boost your product sales with stunning product photos.
Price: Free: 3 credits/month; $9.9: 200 credits/month; $19.9: 500 credits/month
VanceAI Image Upscaler is one of the AI photo enhancer tools provided by VanceAI, a trusted, comprehensive photo editing website. Based on advanced AI technology, it can automatically upscale image up to 2x, 4x, 6x, and 8x without compromising photo quality. Simply upload photos to the website and you'll receive crisp, clean, professional-looking enlarged photos. You'll have three free images every month, and if you want to get more credits, there are two types of pricing for you to choose from.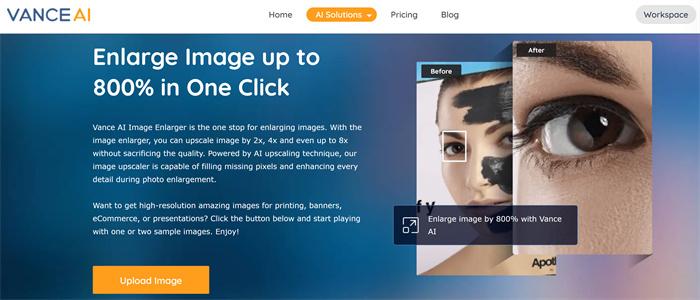 Pros:
Various enlarging sizes for you to choose
100% automatically and fast
Significantly enhance the photo details
Cons:
Limited free credits (only 3 per month)
Also read: 6 Best Photo Enlarger Software Review 2021.
Price: Free online; Pro: $6/two months
BigJPG is an online tool to help you upscale images. It is free for you to do AI upscaling, and you may also pay for a larger size or better quality. Also, it has an APP version that can be downloaded and installed on your desktops or mobile devices. In its paid version, you are allowed to upscale your image in batches.

Pros:
The photo can be enlarged up to 16x
Supports off-line processing
Free to use online
Cons:
The size of the uploaded photo should be no more than 50MB
Slow processing speed
Also read: Best 5 Ways to Increase Image Resolution.
Price: Free: 3 images/month; $9: 20 images/month; $29: 200 images/month
Released by Stockphoto.com, Upscaler.Stockphoto.com is specially designed to enlarge photos. It also allows you to do more enhancement to your photo. You may use it to upscale your image up to 2x, 4x, and 8x. Note that you may only enlarge your image to 2x for free. And in every month, you will have your first 3 images for free.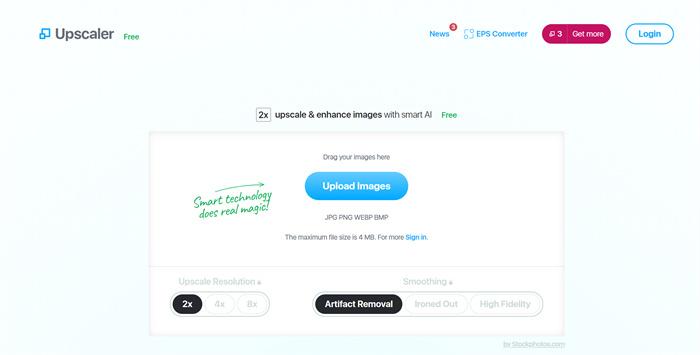 Pros:
Easy to use
Various file formats like .jpg, .png, .webp and .bmp are supported
Cons:
Price: Free
Zyro is an online free image upscaler using deep convolutional neural networks. Trained on big datasets of images, Zyro can accurately analyze and process all kinds of images. For example, it will smartly recognize the object in your images and automatically fill in the details while enlarging. Eventually, you'll get a bigger image and the object in your images looks more realistic.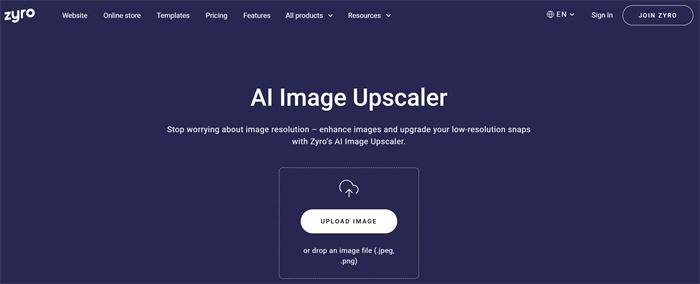 Pros:
Cons:
Only .jpeg, .png are supported
The quality of upscaled images is not stable
Also read: 3 Ways to Enhance Photos | Selective Photo Enhancers Tools.
Image-upscaler.com adopts deep learning to do the enlargement job. Trained with thousands of high-resolution photos, this technology enables its AI system to upscale and enhance photos automatically. You may use it to improve your low-resolution images and resize them for different purposes. But compared to VanceAI's image enlarger, it only allows you to upscale your image up to 2x.

Pros:
Free to use
Improve image quality automatically
Cons:
Only allow you to upscale your image up to 2x.
FAQs
What is AI Upscaling?
Upscaling refers to stretch the image to fit the resolution you're displaying at. AI upscaling literally means that using AI to upscale the image. Most AI upscalers claim that they can upscale photos without losing quality, which attributes to the powerful AI algorithms they adopt.
What makes the best image upscaler?
A good image upscaler should be able to increase the number of pixels used and also maintain the picture's integrity. That's to say, the best image upscaler should not only serve as an upscale tool but also a photo enhancer. For example, VanceAI bills itself as an AI image enhancer to offer you the best result.
Conclusion
High-resolution images can be really impressive as they are clear. More importantly, they ensure a good display effect of the product photo on e-commerce websites. Now with AI solutions, such as VanceAI Image Upscaler, we can easily improve the size of photos without losing quality. After reading this blog post covering the 5 best AI Image Upscalers to do with eCommerce, you may get a clear knowledge of how they improve your images. Now, pick your favorite one to help you grow your e-commerce business. Also read: How to Depixelate an Image Without Photoshop?