Top 5 Best Algorithmia Alternatives Review
A popular method of colorizing any old or black and white photo was the algorithmia colorize tool. As a result, this article explores tools that are easy to use and available that can be used as algorithmia alternatives to colorize black and white photos online.
As well as showing you how to use each tool, we will provide essential features, which you can refer to at any time.
Algorithmia Review
Algorithmia is a very good AI-based technology solutions provider that offers custom solutions for every case or every requirement. Algorithmia color application allowed you to upload black and white photos and it would restore colors through artificial intelligence.
How Does Algorithmia Colorize Work?
With its AI-based technology, Algorithmia image colorization worked. Algorithmia image colorize tool used AI technology to read images with extreme detail and recreate the color of the images. This was similar to many of the recent image processing tools available today. Additionally, due to the same AI technology analyzing images at such a rapid pace, it also became easier to get results. Even though this tool is no longer available, it is still important to know how Algorithmia can colorize your images, and that there are similar tools available now.
5 Best Algorithmia Alternatives
1. VanceAI Photo Colorizer
VanceAI is an online tool with many applications that can be used together for the maximum effect. For instance, you can pair AI Photo Colorizer with VanceAI Photo Restorer to clean an old image and color it. You can start using this image colorizer and get results automatically for free now.
VanceAI Photo Colorizer is similar to the Algorithmia Colorize Photos online tool because it also utilizes AI and Deep Learning techniques to analyze and produce amazing results.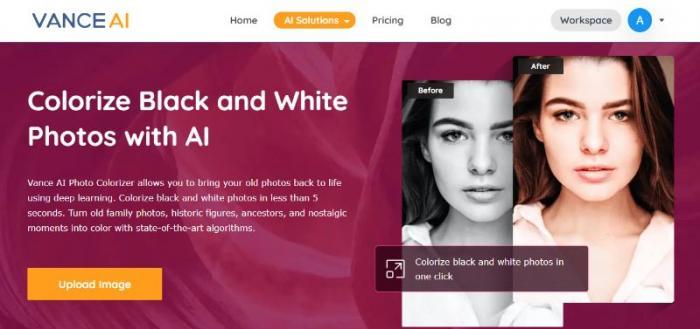 Additionally, this photo colorizer offers more advanced AI models for image processing, batch processing, customer service, etc. Lastly, VanceAI itself is a huge online library of great image enhancer tools, so users can easily combine this feature with other popular VanceAI tools such as the Image Enlarger, Sketch Converter, Background Remover, and more.
Pros:
Astonishing results
Simple to use
Cons:
If you don't subscribe, you won't get batch processing
You may go to VanceAI website and give it a try.
2. Playback.fm
With Playback.fm, you can colorize just about any image using Deep Learning mechanisms. A technology of this type works by feeding it random images so that it can become familiar with predicting the supposed colors of a black and white image.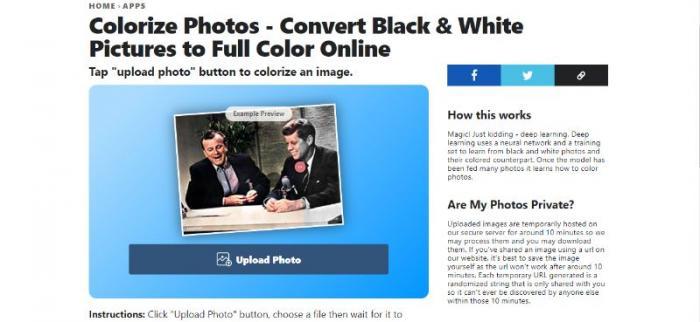 A good feature of Playback.fm is its privacy as an image can only exist for around ten minutes on their server before being permanently deleted.
Pros:
Accessible for free
Fast image processing
Cons:
Results can be disappointing at times
3. Hotpot AI
The Hotpot AI colorizer is similar to VanceAI's image colorizer in that it can be used outside of its website.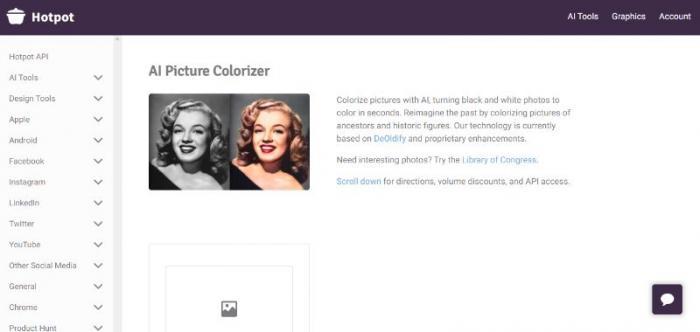 Hotpot offers an API instead of VanceAI's desktop software application. The tool has been designed with Deep Learning methodologies for image processing, so you can expect decent conversions most of the time.
Pros:
User-friendly
Sets the intensity of colorization
Cons:
There is not enough information on the website
Still lags behind applications like Algorithmia and VanceAI
4. Photomyne
There are many different types of black and white photos on Photomyne, which is a very well-designed site.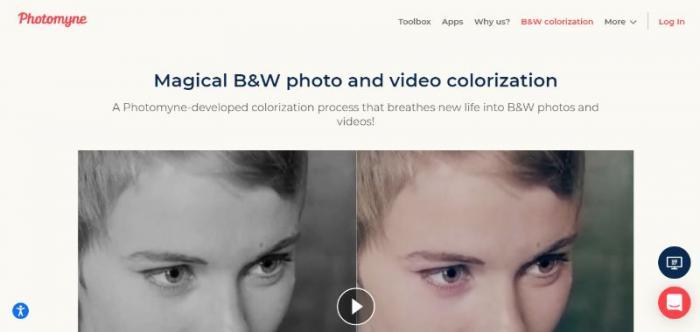 In addition, the application offers a good selection of different mobile applications on iOS and Android. Video editing is also possible with this tool. A colorize tool with a variety of options like Algorithmia.
Pros:
A wide range of tools are available
The design is cool
Cons:
5. MyHeritage
MyHeritage, as the name implies, enables you to colorize old vintage family photos and other family heirlooms.
Besides that, it also works as a complete application with additional features such as VanceAI and Photomyne, although those are paid.
Pros:
The application is very popular
Simple to use
Cons:
There is no information about paid subscriptions
Images of specific kinds are better
FAQs
1. How to restore the color of photos?
This has a lot to do with the awesome AI and Deep Learning technologies that these applications offer, which make restoration of colors much easier than before. It is as simple as visiting any of these Web sites, uploading an image, and waiting for the tool to process it and display the results. Online photo restoration service provided by VanceAI can make your photos look the best by removing all the imperfections.
Conclusion
Those were the applications that were not only good alternatives to Algorithmia, but they had more to offer as well. Consequently, any of these tools can be selected by the user based on their requirements.
If you want to fix old photos in an all-around way, then photo colorization and old photo restoration tools from VanceAI is a good choice since they allow you to bring old photos back to life in just a few clicks.