How to convert photo to passport size with VanceAI?
Passport photos are extremely important for people who visit other countries, for example, travelers, businessmen, or overseas students. Applying for a passport can be a lengthy process. Usually, it would take weeks to get your passport. The requirements for passport photos are super strict. And these requirements for different countries vary from each other. Sometimes, people may get frustrated by these rules.
While thanks to the development of AI technology, now you can convert photos to passport size online with an AI-based passport photo maker. It can a great lifesaver if you have been bothered by the complicated photo editing process.
Passport photo maker tools can provide you with the correct form of passport photos. You just need to upload your portrait and it can convert your photo to passport size in just one click. Besides, this online passport photo maker is also available for other freemium features.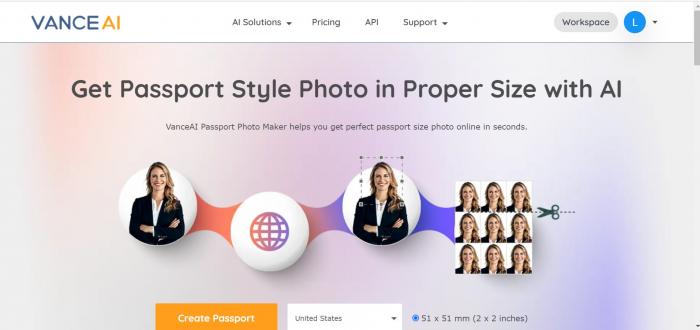 VanceAI is an AI-Powered online photo editing tool, and its passport photo maker will provide eight main countries' passport sizes and backgrounds for your photo. you'll set your passport photo size parameters for other countries not involved. once you found out all things are right and upload a photograph, firstly, it'll resize photo to passport photo size, then it replaces the first backgrounds with orientated passport backgrounds. it'll enhance the image quality before it comes into your sight. At this moment, a professional passport photo is completed. As you'll see, a passport size maker is significant for you to resize photo to passport size reception, and you are doing need one just like the VanceAI passport photo maker.
How to use VanceAI Passport Photo Maker?
Step 1: Go to VanceAI website and open VanceAI Passport Photo Maker and click "Select Image."
Step 2: Now you can convert your photo to passport size. Adjust the parameters of your facial space in the photo area. Manage background and Canvas setting, rotation, and turn on the AI adjustment, once you finish the up here, click "Next".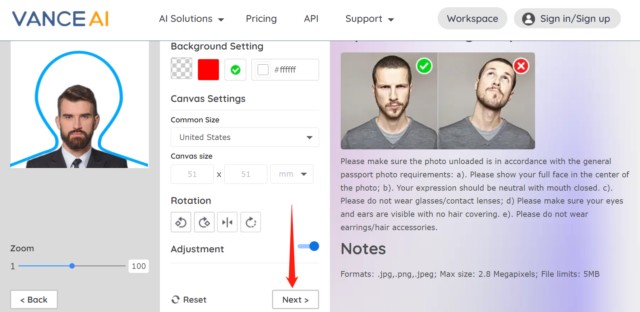 Step 3: Click "Complete" if you are sure about the photo.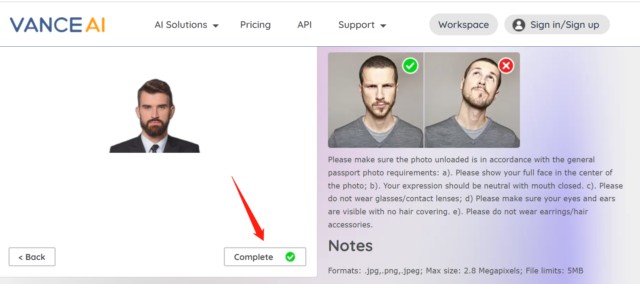 Step 4: Choose the printable size you need, or download the single photo.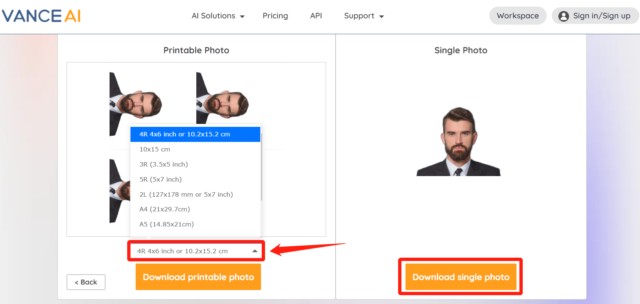 In addition to the present passport photo maker, VanceAI provides more comprehensive AI image editing tools. Such as VanceAI Photo Restorer, VanceAI Photo Colorizer, VanceAI Artifact Remover etc.
Conclusion
There are some ways to resize photos to passport size, and selecting a web passport photo maker will prevent tons of problems. it isn't easy to manually resize the image to passport photo size; however, if you've got tools like VanceAI Passport Photo Maker, resizing passport photos difficulties will never come to you. Give it a try, and see what it can do for you.
FAQ:
How to make passport photo?
Use your smartphone to take the perfect shot at home, or select the greatest photo from your cellphone gallery. Upload it to VanceAI Passport Photo Maker. There's no need to download and install a passport photo program or photo editing tools like Photoshop. Unlike typical online digital passport/visa photo editors, you may get your passport photo in a few seconds.
What is the greatest backdrop color for a passport photo?
white plain.
A basic white or off-white backdrop is recommended. In the backdrop, there should be no distracting shadows. Except for religious reasons, head coverings are not authorized, but facial characteristics from the bottom of the chin to the top of the forehead, as well as both borders of the face, must be plainly seen.