Top 10 Image Denoiser Tools for Photographers
Bad contrast, blur, distortion and the 'washed out' effect are just some of the problems you will likely encounter at some point if you're a photographer. But arguably even more annoying than any of those issues is the dreaded image noise. This effect can be subtle in some cases, but more often than not it's very obvious and ends up running otherwise perfect photos. Luckily, this unwanted effect can easily be removed using an image denoiser.
What is Image Noise Reduction?
Image noise is characterized by a random variation in brightness or color that produces artifacts similar to static in digital photography. Image noise reduction is the process by which these artifacts are removed from the image. While it is possible to reduce noise manually, it's a lot faster and more effective to use specialized software that can do it for you. A lot of the time image denoiser software is based on artificial intelligence, which is why it can perform complex editing in just a matter of seconds.
Best AI Denoiser Online Tools Review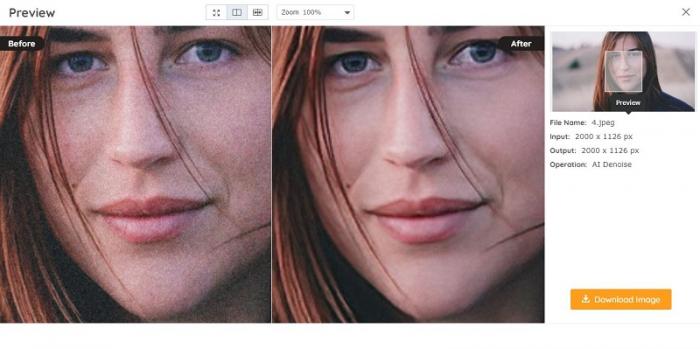 Price: Starting at $9.90/mo
VanceAI has a ton of amazing editing tools that can improve any image with just one click. Just like all the other tools offered by the company, Image Denoiser is based on powerful machine learning algorithms that get progressively better with time. The tool features both an auto mode and a manual one, allowing you to fine tune parameters like image noise reduction and sharpness. The denoiser works great alongside other solutions like VanceAI Photo Retoucher and we recommend using them together to achieve the best results.
Pros:
- Easy to use
- Price includes a dozen other tools
- Manual and auto modes
Cons:
- Could use more options
- Requires some trial and error
- Limited free trial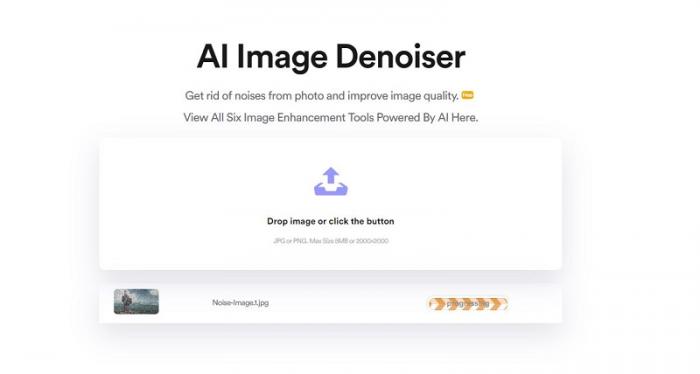 Price: Free
This a bit confusing but there's a website called AI Image Enlarger that also offers an AI image denoiser tool, along with a few other solutions. Presumably, the website started out as an image enlarging service and branched out from there. The tool offers an extremely simple way to denoise images online and is completely free. Since the denoiser is based on AI, there aren't any settings you need to worry about. The process occurs automatically. All you have to do is upload an image and wait.
Pros:
- Easy to use
- Free
- Good performance
Cons:
- No special features
- No preview mode
- Only supports images up to 2000 x 2000 px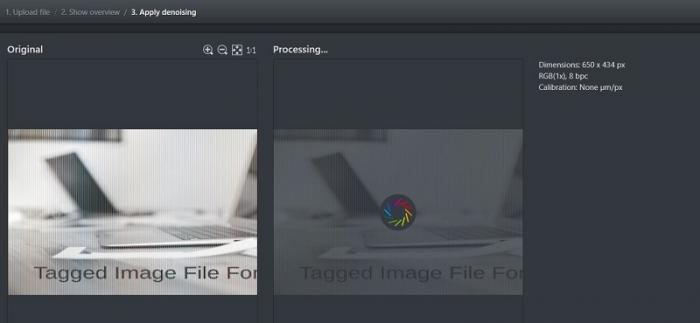 Price: Free
The fancifully named Denoise Laboratory is an advanced tool that takes a multi-step approach to image denoising. The tool was designed to work exclusively with specialized file formats like ND2 and TIFF, making it a great choice for professional photographers and graphic artists. ND2 files are usually impossible to view without the proper software but luckily the website also offers a free ND2 viewer you can install on pretty much any device. In addition, the website supports very large images of up to 50 MB in size.
Pros:
- Supports ND2 and TIFF files
- Supports very large images
- Free
Cons:
- Doesn't work with regular formats
- Slow processing times
- Not designed for average users.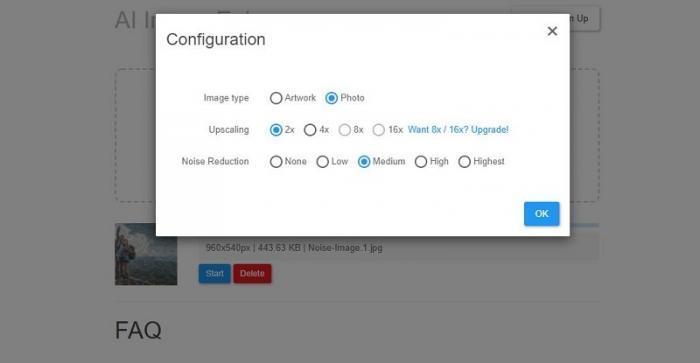 Price: Free. Paid plans also available
True to its name, BigJPG is a simple image enlarger you can use from any browser or download as an app for PC and mobile. Although not obvious at first glance, the tool doubles as an AI image denoiser. Unlike other AI-based tools, BigJPG won't automatically detect the best settings for you image, allowing you instead to choose between different levels of noise reduction. Interestingly enough, the tool performs a different denoising process depending on whether the uploaded image is a real photo or a piece of artwork.
Pros:
- Easy to use
- Available both online and as an app
- Free (with limitations on the upscaler)
Cons:
- Makes it mandatory to also upscale
- Fairly slow processing speeds
- No auto mode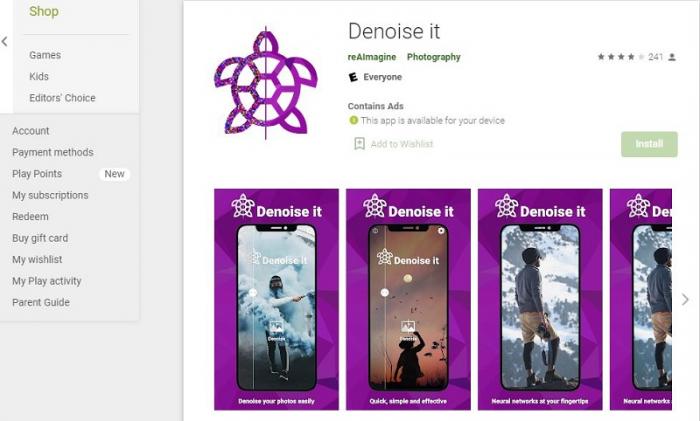 Price: Free (with ads)
Denoise It is a mobile app that does exactly what you would expect. This image denoiser is a great choice if you have a lot of images on your phone that could use a bit of cleaning up. The photos are sent to a server where they are denoised so the process doesn't actually occur on your phone. However, you wouldn't really be able to tell since the app is very fast. The app is pretty light on options but has a good auto mode.
Pros:
- Easy to use
- Auto mode
- Very fast
Cons:
- Only available on mobile
- Occasional performance issues
- Lots of ads
Also read: Remove Noise from Photo with VanceAI Image Denoiser
Best 5 AI Image Denoiser Software Review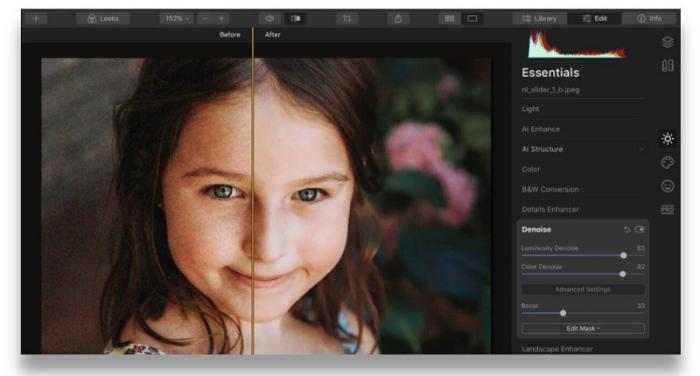 Price: Free. Paid plans starting at €59
Luminar 4 is a well-known image editing software developed by Skylum. Although the company has recently focused most of its attention on the new and improved Luminar AI, the previous version of the software is still available. Luminar 4 comes with a slew of features, including a powerful image denoiser that you can fine tune to your liking. There are plenty of options and templates to play with if you want to make more complex edits, but you can just as easily use Luminar 4 exclusively for denoising
Pros:
- Award-winning software
- Tons of great features
- Fine tunning
Cons:
- No longer receiving updates
- A bit complicated for beginners
- Paid plans are fairly expensive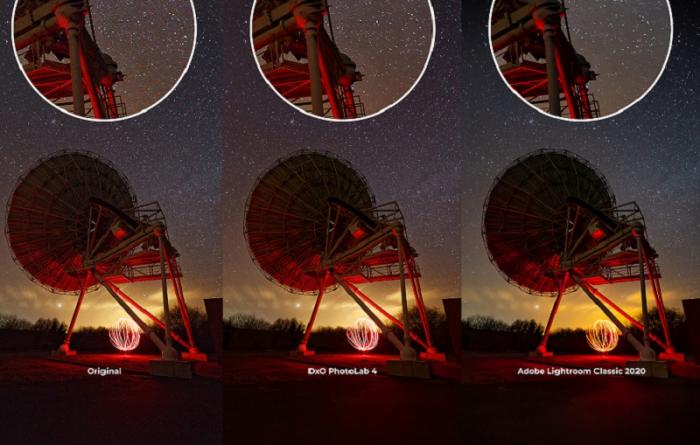 Price: Starting at €99
Photolab 4 by DXO is a jack-of-all trades software suite that acts as an image denoiser, watermarking tool, exposure compensator, and more. The software also comes with batch renaming, customizable workspace, and many other features. Another noteworthy feature included in the suite is demosaicing, a process by which a digital image can be reconstructed in full color by using only incomplete color samples. Given the high price tag, it's a bit hard to recommend DXO Photolab 4 to beginners but you should definitely check it out if you're a professional.
Pros:
- Many advanced features
- Batch file renaming
- Demosaicing
Cons:
- A bit complicated for beginners
- Quite expensive
- Limited free trial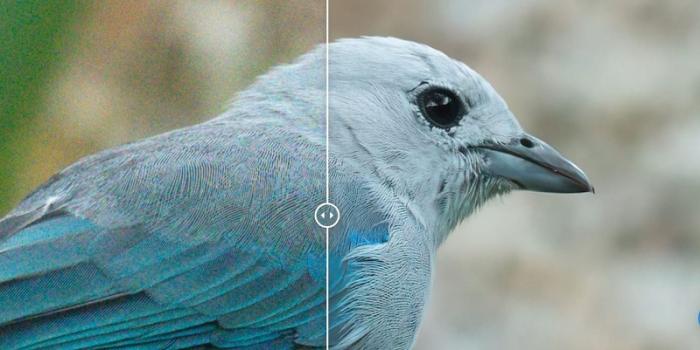 Price: $79.99
TopazLabs is another well-known player in the artificial intelligence space and their software is some of the best out there. The company's AI image denoiser is capable of removing grain and static from images with pinpoint accuracy. Even more impressive, Denoise AI removes grain without decreasing the level of detail, which is a problem for a lot of other similar tools. Denoise AI was designed to actually enhance image details and it does this automatically thanks to the power of advanced artificial intelligence algorithms.
Pros:
- Advanced editing software
- Lots of interesting features
- Reduces noise without lowering detail
Cons:
- A bit complicated for beginners
- Quite expensive
- Limited free trial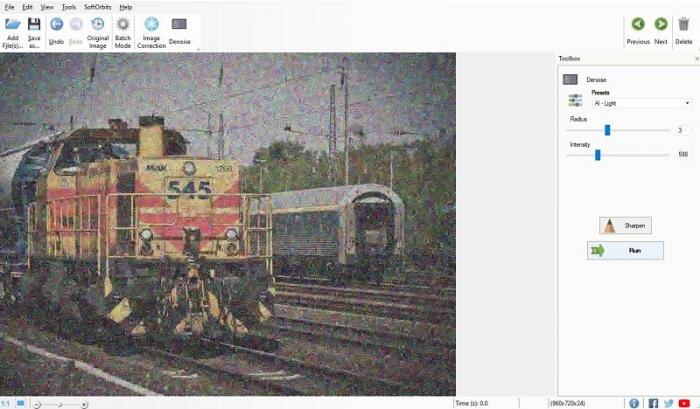 Price: Starting at $11.99
The name of this software is quite appropriate. While most editing software tends to be fairly complicated SoftOrbits' Easy Photo Denoise is the opposite. To get started you only have to upload an image and select one of the available presents. You can then manually adjust parameters like radius and intensity, as well as sharpen the image. An image correction mode is also included along with a batch processing mode. While you can download and try the software for free, you'll need to buy a license in order to save processed images.
Pros:
- Very easy to use
- Batch processing
- Image correction
Cons:
- Could use a few more features
- Preset settings don't always work
- Trial version doesn't let you save images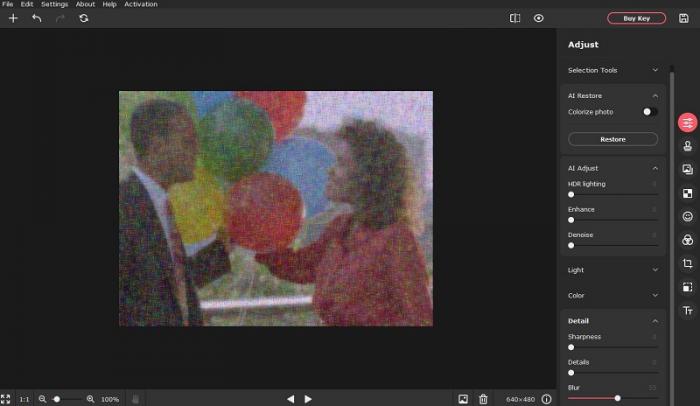 Price: Starting at $44.95/year
Last but not least we have Movavi's Photo Editor, also known as Movavi Picverse. You're probably already familiar with this company since it produces many quality pieces of software, including video editors, screen recorders, converters, and more. The photo editor lives up to the company's high standards of quality while also being very easy to use. The noise reduction feature has both auto and manual adjustment modes, letting you fine tune various aspects of the photo. You can also look forward to an image colorizer, background remover, and other interesting features.
Pros:
- Quality software for users of all skill levels
- Many great features
- Easy to use
Cons:
- Fairly expensive
- Watermarks with trial version
- Not the best UI
Final Thoughts
Whether you were looking for an easy-to-use image denoiser online tool or a more advanced editing software, we hope this article helped you find exactly what you needed. Many of the tools we discussed are free and we recommend experimenting this those ones first. Once you've found a good match, it's always worth considering upgrading to a premium solution. For more information about photo enhancement, click 3 Ways to Enhance Photos | Selective Photo Enhancers Tools.
FAQs:
How to Denoise Photo Online?
If you want to denoise an image without having to download any new software, you can simply use an online photo denoiser. Generally speaking, you only have to upload the image that needs fixing and click one button to have the tool denoise it for you. In some cases, however, you may need to manually adjust some settings to get the best results.