Best 5 Image Sharpeners Review
Sharpen Image Online with 5 Best Photo Sharpeners
Price: This photo sharpener tool is free to use three times a month. Anything beyond that requires any one paid subscription that costs $9.90 or $19.90, depending on your preference.
Vance AI Image Sharpener is an amazing online tool built from AI based image processing technology that excels in producing realistic looking results. You can easily get upto ten images processed within seconds if you opt for the Pro account that costs $19.90 plus a bunch of other cool features. Apart from that, you can also choose to keep blurring or noise in the image if you want the photographic effect.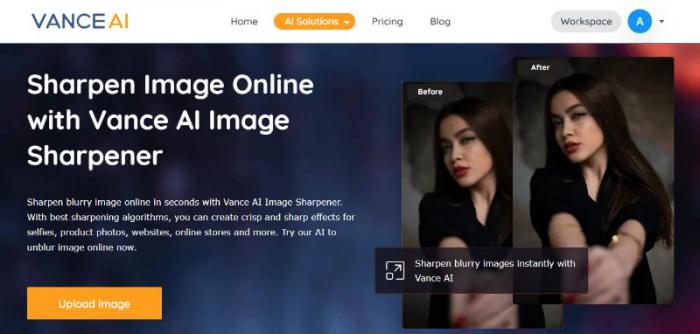 Pros:
Great results.
Quick processing due to AI.
Convenient UI design.
Cons:
Noise and blur settings are not noticeable until turned to 100.
Limited free use.
No batch processing for free.
Price: You can sharpen image online for free with this image sharpener tool.
The PineTools photo sharpener application is a simple and straightforward tool to sharpen an image without needing to know much. The UI is also designed pretty well. It does contain a few social media quicklinks that you can use to share your work immediately. Apart from that, you can use a couple of settings to edit the output. First, you can choose the size of the mask of the image and set the intensity of the sharpening effect.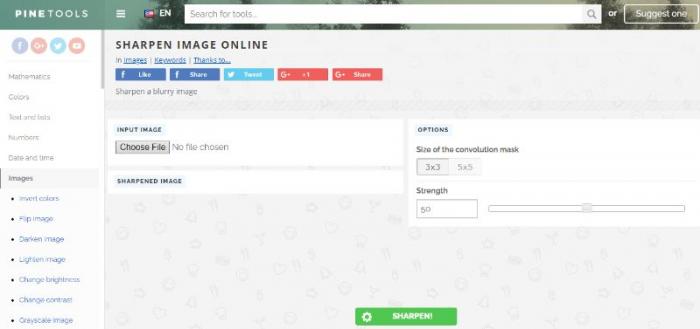 Pros:
Simple to use.
Free to use.
Quick processing time.
Cons:
The results are not always on par.
It could use more settings.
No batch processing.
Price: You can sharpen blurry image anytime for free using this application online.
LunaPic is an online library full of valuable image editing features that you can use anytime to enhance and edit your images. One of its tools is used to sharpen an image and quite easily too. You can simply select the tool or use the link given and use the slider to adjust the sharpness of the image. You can use the upload button to upload your image. LunaPic is a popular image sharpener and an image editor so you can definitely expect it to provide satisfactory results in most cases.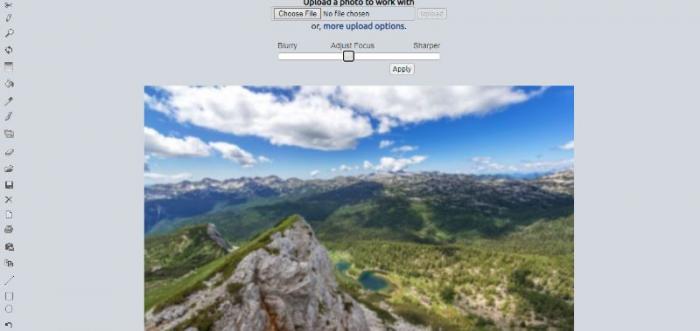 Pros:
Easy to use tool.
Free to use.
Popular image editor application.
Cons:
The UI can be confusing at first.
The slider can be replaced with something more accurate.
No extra features.
Price: You can get access to one month of unlimited RAW file conversions and resizing for $1.99. Other than that, you can easily sharpen image for free.
One of the most advantageous things about this tool is the sheer amount of image file compatibility it has. It supports PDF, RAW, and a whole bunch of image file formats that other applications simply don't. If you are a professional user who works across multiple different software applications then this tool is a must for you. When it comes to its design, it is smooth. Just a simple upload and you will get your result within a minute.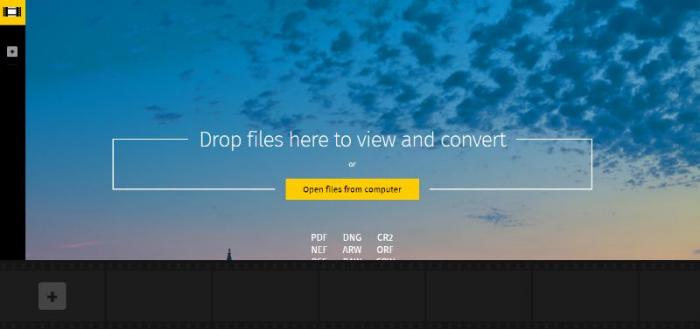 Pros:
High compatibility.
Affordable paid plans.
Simple to use.
Cons:
The results can vary.
It can be buggy.
No extra features.
Price: You can sharpen image for free by using this online image editor tool.
The design of this particular tool is similar to that of PineTools, in that it's very simplistic and direct. You can click on the upload button and get the image uploaded on the website. After that, you can also set exactly how much sharpening effect you want to apply to the image. You can perhaps adjust it to a level that looks realistic and artistic enough. Finally, you can also use the social media quicklinks here to share your work instantly.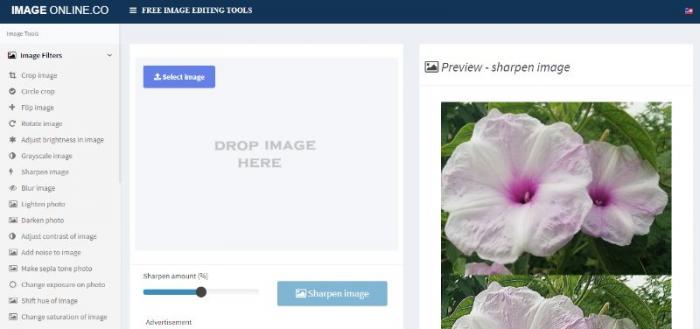 Pros:
Simple to use.
Free to use.
You can download the image in either PNG or JPG.
Cons:
Could use more features.
Slow processing speed.
Results can be underwhelming sometimes.
FAQs
1. How can I sharpen blurry image online?
You can sharpen image by using any of these tools given in the review list. They are all online tools which have more or less the same type of process to sharpen image. You can first use the link we have provided for each product in their title to access them. From there, upload an image and wait for it to process. Finally, download the image and use it anytime.
2. How to sharpen blurry image in Photoshop?
Though Photoshop is not for everyone, it is certainly the go-to application for many. With this application, you can conjure many effects that are simply not possible in other image editors. If you want to sharpen image with Photoshop, you can follow a few simple steps. First, open the image in the application and go to Layers and select the image. Go to Filters and select the Unsharp Mask from the Sharpen option. Use the settings you want and apply.
Conclusion
With these tools, you can easily sharpen blurry image online. An application such as Vance AI Image Sharpener is powered by AI and Deep Learning algorithms which makes it a great choice if you want to have amazing results in the shortest time possible. Whereas tools like PineTools or LunaPic can offer a bit more manual settings if you prefer that.