Photoshop Colorize VS VanceAI Photo Colorizer: Will AI Win?
When it comes to colorization, Photoshop is the gold standard. But this hasn't stopped digital artists from trying to improve the technique with new technology, like AI.
While we won't be able to get rid of Photoshop anytime soon, we can at least create a more modern workflow that doesn't require us to choose between the convenience of an easy workflow and the precision of traditional methods.
In this article, we are going to mention Photoshop colorize VS VanceAI Photo Colorizer and compare both pros and cons.
What is a VanceAI Photo Colorizer?
VanceAI Photo Colorizer is an intelligent photo editor that makes editing and enhancing photos a breeze. It is included in one of the top image enhancer tools and your one-stop solution for all your editing needs. This AI-powered web app enables you to create stunning, professional edits in just minutes.
How to use VanceAI Photo Colorizer?
The photo colorizer from VanceAI is a very interesting tool that can help you correct the problems with your photos by automatically changing the color balance.
Here is how you can use it to colorize your stunning photos.
Step 1: Upload the Image
After landing on the VanceAI photo colorizer, the first step is to upload the image. You can also drag and drop the photo easily.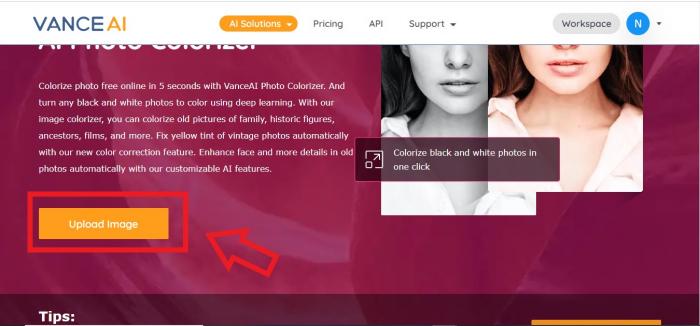 Step 2: Start the Processing
Once your black and white photo has been uploaded successfully, now just click on the "Start to Process" button. Now it will take some seconds to colorize your photo. You can also start offline processing.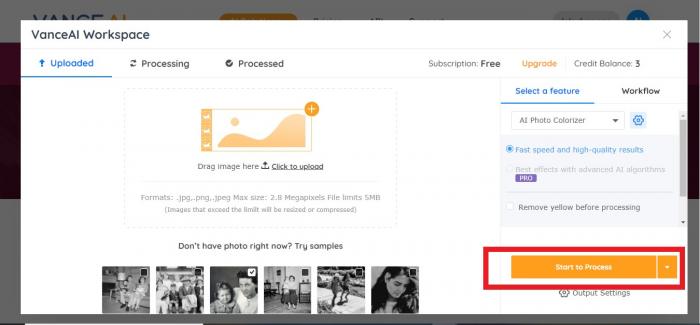 Step 3: Download the Colorize Photo
After your black and white photo has been processed in the VacanceAI photo colorizer, now it's time to download your colorized photo. You can also preview the photo before you download the photo.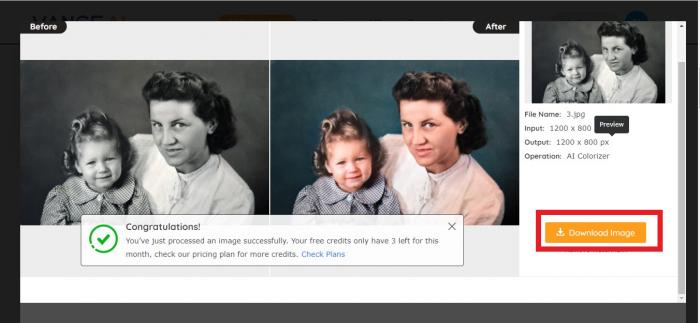 Need More Photo Restoration? Use VanceAI Photo Restorer!
We are still far from perfecting the technology that can repair damaged images. But with the help of AI applications like VanceAI, we can do online old photo restoration perfectly. Through deep learning, VanceAI Photo Restorer provides you with 100% automatic photo restoration. You can restore your old photos to their original beauty with this old photo restoration tool.
How to colorize black and white photos in Photoshop
In this tutorial, I'll walk you through how to colorize black and white photos in Photoshop so that the colors from the original photo will be integrated into the final result. It's best to start with old photos that have been taken using film because it will give you more leeway when coloring the image.
Step 1 – Open up your image
Open up your image or photo file by going to File > Open and locating it on your computer. If you don't already have Adobe Photoshop CC (or another photo editing program), you can download a free trial of it here.
Step 2 – Create a new layer
After selecting your photo, click on Layer at the left bar, then select New Layer. This will create a new layer below your image with a generic name like Layer 1. To give it a meaningful name you can remember later, right-click on it, select Rename Layer, and enter an appropriate title.
Step 3 – Adjust Brightness
Adjusting the brightness is one way to make colored pencils look more natural, so start off by using Brightness/Contrast to do just that. First, take advantage of Photoshop's auto-adjust feature; go up until you see where auto has turned something yellowish and then back down until it looks like skin tone again.
Step 4 – Choose poster edges from the blending options menu (in Layers Panel)
Poster Edges or a variant of it. Then, change its blending mode to Color Dodge (or Screen, if you like more saturated colors) and reduce its Opacity to around 80% – 90%. Poster Edges will make your photo look as if it was cut out from an old photograph with textured edges.
Step 5 – Use the brush tool, choose colors from your image. Paint over objects
After you've chosen your brush, click on it while holding down your left mouse button. Move it over an object, like the hand or face of the person. Then release your mouse button and start painting.
Photoshop colorize VS VanceAI Photo Colorizer
The Photoshop Colorize filter has been around for a long time. But it is still a favorite among graphic designers and photographers. However, not everyone can colorize black and white photos on Photoshop, or their Photoshop skills aren't quite up to par. Here, we compare two different photo colorization tools: Photoshop and VanceAI Photo Colorizer.
Photoshop is a world-renowned photo editing software that allows users to adjust colors in photos with ease. On the other hand, the latter is a color correction app that lets you take control of colors in your images, no matter what camera or smartphone you use.
Although Photoshop is a handy tool, it does have some disadvantages. Using the wrong tools can lead to a blurry photo or images that are pixelated. Even though you might be good at using Photoshop, it may not be worth the time spent on other software.
On the other hand, VanceAI Technology offers a wide variety of AI-powered tools that allow you to automatically process images anytime, anywhere. Therefore, in this tool, you will not need to do all the things manually like photoshop. Everything in this tool is just a click away.
If we compare the prices of both tools, we will find that the price of Photoshop is US$20.99/mo. On the other hand, the price for VanceAI is $9.99 /mo.
Conclusion
Photoshop is a tool that has been around for a long time, and it's unlikely to be replaced any time soon. However, in the future, AI may take over and replace Photoshop. To help you, we have compared both of them. Both have their pros and cons. Being processed by a colorizing tool like VanceAI Photo Colorizer can not make your damaged old photos get enhanced. That's why you need a professional tool to repair them. VanceAI Photo Restorer is exactly what you need before colorizing.
If you want quick editing of your photos with the help of AI, VanceAI should be your top choice. It is one of the best and most popular photo colorization tools available in the market today.