How Do You Recreate Childhood Photos?
Do you remember growing up and spending time with your family photos? Chances are, you probably had to recreate some of them. Recreating childhood photos is a common practice, and there are plenty of ways to do it.
From photo editing tools like VanceAI Photo Restorer to photo booths, there are plenty of ways to get those childhood memories back in the form of photos. So whether you're looking to capture your kids' first steps or want to reminisce about simpler times, read on for tips on how to recreate childhood photos.

What Is Recreating Childhood Photos?
Looking back on childhood photos is a time we all cherish. But what happens when those memories no longer exist in the form of physical images? The word recreate refers to a process of giving something new life, redoing it, or remastering it.
For some people, that's where recreating childhood photos comes in - by using digital images and photo software. From family celebrations like holidays or birthdays, or even just a series of candid images in and around your house, you can use props such as strollers and other toys that remind you of your childhood.
Restore and Colorize Your Old Photos

Do you have old photos that you would like to restore and colorize? If so, you're in luck! Many online tools can help you do just that.
Whether you have a digital copy or a physical print, VanceAI Photo Colorizer can quickly restore and colorize your old photos. With just a few clicks of your mouse, this tool transforms your faded childhood memories into vibrant images that jump off the page.
If you have an old family photo but aren't sure how to clean it up or what tool you need, give an image colorizer a try! Rather than using standard filters, this AI picture colorizer uses Deep Convolutional Neural Networks to colorize old black and white photos.
Here is the before vs. after result of the VanceAI Photo Colorizer.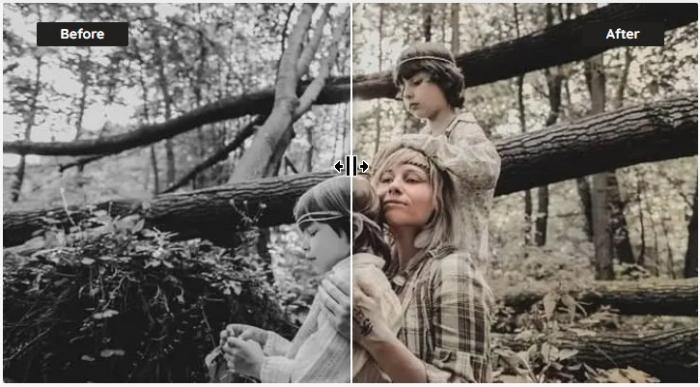 There is a significant difference between the before and after picture, as you can see above. With this AI image colorizer, the old photo has been wholly recolored into a new one that appears to have been taken just a few days ago. Make your old photos appear fresh by using this tool.
8 Tips To Recreate Childhood Photos
Looking to recapture your childhood memories but don't know where to start? We've got you covered! This section gives you 8 tips that will help you recreate photos from your past like a pro.
From finding the right photo software to getting the perfect backdrop, we'll teach you everything you need to get those cherished memories back in focus. So sit back, relax, and let us take care of the rest!
Pick the photo
You can save time and energy by making sure you pick a picture that's well suited for recreating. Be sure it has plenty of plain space and doesn't have any delicate details, like faces or hands. Also, try picking a black and white picture because changing these images to color can be complicated.
Find similar props
If you're recreating a family photo, it helps to find similarly-sized props—whether they're real people or dolls—to act as stand-ins for your parents and siblings. If you don't have access to these props, use additional items around your house (such as sheets or blankets) to approximate their size.
Additionally, it can help to measure distances between objects in your photo and those around you.
For example, try placing three pillows down in that configuration if you're trying to recreate a beach scene with two adults and two children standing together on the sand. Each person is roughly one pillow away from another person. This will help ensure that everyone is positioned correctly when taking photos.
Identify your location
The first thing you need to do is identify your location. If you want to recreate a childhood photo from a specific year and date, you'll need those details.
You can search online for vintage photos of your city or town (or another place with special meaning to you) to get an idea of what it looked like back in that period. It might be easier than you think!
Prepare for wind or heavy backdrops
Ensure you have good wind blockers and safety harnesses for everyone involved in your recreating photos! If you plan on using backdrops, be sure they are secured against any chance of gusty winds blowing them away.
If you don't have any experience with creating such set-ups, consider hiring professionals who can help recreate your childhood memories safely.
Recruit your friends and family
Finding people to recreate your childhood photos with can be challenging, but you're probably already close enough with some of your friends and family members that they won't mind being a part of it. Have your parents and siblings join in, too—the more, the merrier!
If you have kids of your own, put them in their most prized clothes and send them out into a field or park for an afternoon. You never know what memories will come out of it! Just make sure you choose clothing that isn't likely to get ruined (it happens).
Use a tripod
A tripod is essential for recreating childhood photos of your entire family. Make sure you find a sturdy one to support everyone in your picture. Additionally, tripods make it easier to recreate images in which more than one person is present; some are adjustable and can fit multiple people at once.
When setting up your shot, try moving back as far as possible from where you're standing or sitting to get as much scenery into each photo as possible. You may also want to think about adjusting how close together each member of your group stands or sits.
If they're too close together, it will be difficult to recreate the original photo without cutting out part of someone's body.
Select Music That Matches The Mood Of The Image
Music can change your mood. Select a genre that helps recreate your childhood photo's original emotion, such as nostalgia or happiness. You can also add songs that make you feel happy and nostalgic, even if they don't precisely match up with your childhood photo.
Sometimes, it's best to pick songs that you like instead of worrying about choosing one specific music for each memory. It's essential to keep things fun, so you enjoy taking these photos! If something isn't working out, try another approach—you might be surprised by how much variety there is! Make sure you have all the necessary props.
In addition to thinking about what is needed for each photo, it's also good to consider what makes sense financially and practically. Try not to spend too much money on props because you want them available whenever you decide to take more pictures later on.
Get Matching Outfits If Possible
You may be a lot older now than you were when you posed for that photo, but that doesn't mean your kid isn't ready to pull out all the stops for one more go at it.
If you still have some of those clothes lying around—maybe in your parents' attic or at your grandma's house—the two of you can make matching outfits while finding new ways to channel.
It might not be exactly like your original picture, but who cares? It'll still be fun and look great on Facebook.
Conclusion
Recreating childhood photos is an excellent project for everyone and anyone. Everyone needs a good laugh once in a while, so taking on a project like this is always good fun.
We have mentioned 8 tips for recreating childhood photos above and an image colorizer/restorer tool to help you! Have you recreated any childhood photos? Share them with us below!
Frequently Asked Questions (FAQs)
Here are the faqs about recreating childhood photos.
Why Is It So Popular To Recreate Childhood Photos On Tiktok?
TikTok is a popular app that allows users to create and share videos with other users. Some of the videos on TikTok are recreations of childhood photos, and people seem to enjoy them.
Why is this? We think there are a few reasons:
It's a way for people to relive memories from the past.
It's a way for people to share memories with other people.
It's a way for people to share their feelings.