10 Timeless Vintage Celebrity Wedding Photos From the 20th Century
Vintage means a wide range of things, but specifically, the phrase is related to everything belonging to past ages. One of the most loved wedding photography types is vintage-inspired wedding photography. People who wish to give their present wedding a vintage vibe are increasingly interested in this kind of photography.
Vintage wedding photos are a timeless work of art. They focus on developing pictures to provoke a nostalgic feeling in couples. A superb vintage-style wedding evokes the elegance of the past and recalls wedding celebrations from previous decades.
Freeze Weddings In Memory

If you have some iconic old wedding photos from your parent's or grandparent's wedding, but they are not in good shape now, and you are looking for some tool to recover them, you can use VanceAI Photo Restorer.
VanceAI Photo Restorer uses deep learning to recover old-time wedding photos images completely. You can use the ancient picture restoration tool to remove scratches, cracks, stains, and other flaws from your treasured old images. While repairing your old images, you may restore their clarity and natural color.
And if you want to add color to those photos, then there is also an option of VanceAI Photo Colorizer that uses a Deep Neural Network instead of standard filters to colorize vintage black and white photos.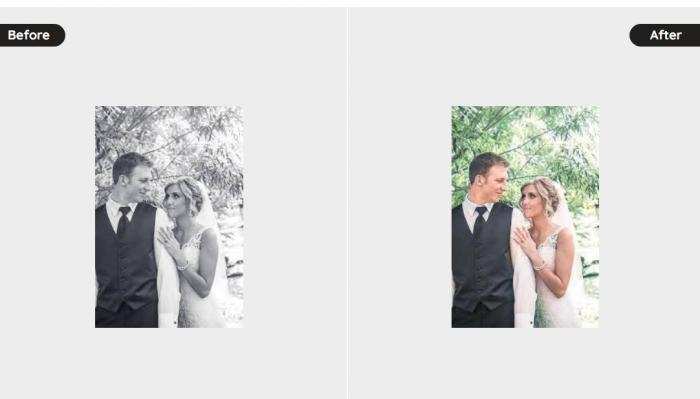 The above photo shows that you can use an AI image colorizer to colorize old photographs online. As it can colorize old black and white photos online completely by utilizing the Best AI picture colorize algorithms to help you get natural and consistent results.
10 Vintage Wedding Photos from the 20th Century
Here are the most iconic Vintage celebrity wedding photos of the 20th century,
Ginger Rogers and Lew Ayres (1934)

Ginger Rogers and Lew Ayres married on November 14, 1934, in Little Church of the Flowers in Glendale after meeting for the first time on the set of Don't Bet on Love in 1933.
The happy pair were photographed, with Lew dressed in his cadet uniform for his job and Ginger in her finery. Ginger appeared to be a royal in her Chantilly lace gown. As the joyful couple posed for the shot, the actors in their cadet uniforms lifted their swords and made an arch for them.
This photograph portrays two people who are madly in love and only have eyes for one another.
Jean-Pierre Aumont and Maria Montez (1943)

Jean Pierre Aumont married Maria Montez on July 14, 1943, at Montez's house in Beverly Hills, with Charles Boyer as best man and Jannine Crispine as maid of honor. Maria Montez, a Dominican actress, was dubbed the "Queen of Technicolor," and their marriage was quite joyful.
Princess Elizabeth and Philip Mountbatten (1947)
On November 20, 1947, Elizabeth and Philip married at Westminster Abbey. Elizabeth's tiara broke on the morning of the wedding, and Philip was pulled over for driving speedily through central London on November 19, the day of the rehearsal dinner.
The image is iconic for the present-day couples as King George VI hailed their marriage as a "real romance" over their wedding breakfast.
Nat King Cole and Maria Hawkins (1948)

The pair married on March 28, 1948, dressed nicely in a tailcoat tuxedo and a white off-the-shoulder satin ball gown. Nat King Cole and his bride, Maria Hawkins, cut the five-tier wedding cake at their Harlem reception.
They married only six days after his divorce from his first wife had been completed. Ellington performed for the Nat King Cole Trio one evening at a Harlem bar, and Cole was captivated by her singing backstage.
Elizabeth Taylor and Conrad Hilton (1950)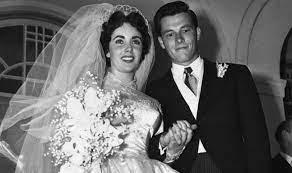 On May 6, 1950, Elizabeth Taylor married Conrad Nicholson. It was dubbed "Hollywood's Social Ceremony of the Year." They were wedded by a priest at the Bel-Air Country Club, followed by a lavish reception. Fred Astaire and Ginger Rogers, two of Hollywood's finest talents, were also among the guests. Taylor looked very stunning on her wedding day.
JFK and Jacqueline Kennedy (1953)

On September 12, 1953, Jacqueline Lee Bouvier married John F. Kennedy in Rhode Island. Among the almost 800 attendees were several noteworthy people. The bride wore an ivory tissue silk gown with a portrait neckline, fitted corset, and a ringlet skirt adorned with bands of almost fifty yards of flounces. Jacqueline wore a pearl choker and a diamond bracelet given to her by the groom.
Arthur Miller and Marilyn Monroe (1956)

Arthur Miller and Marilyn Monroe married in a four-minute civil ceremony at the Westchester County CourtHouse in White Plains, New York.
Lee Strasberg, the bride's acting instructor and mentor gave her away, and the wedding rings were engraved 'Now is forever.' Rabbi Robert Goldberg officiated at the event, which had twenty-five attendees.
Princess Margaret and Antony Armstrong-Jones (1960)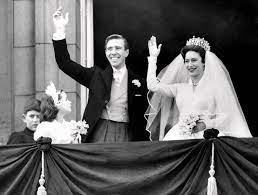 On May 6, 1960, Princess Margaret wedded Antony Armstrong-Jones at Westminster Abbey. The Queen's younger sister wore the Poltimore tiara with a cathedral-length veil and the silk organza gown. Prince Phillip would escort Margaret down the aisle because her father, King George VI, had died years before.
Judy Garland and Mark Herron (1965)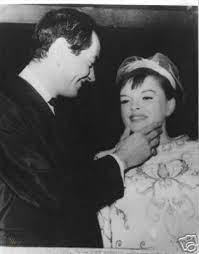 Judy Garland married Mark Herron at a church in Las Vegas, an actor who acted in films such as 812, Girl in Gold Boots, and Eye of the Cat by Federico Fellini. The Sahara Hotel hosted their reception.
Bianca Jagger and Mick Jagger (1971)

Mick Jagger married Bianca Pérez-Mora Macas, a Nicaraguan-born actress, on May 12, 1971. The pair married at Saint-Tropez, France, at the Church of St. Anne. Bianca was expecting their daughter Jade at the time. With her Yves Saint Laurent pantsuit instead of a conventional gown, she remains a legend in wedding fashion.
Conclusion
You can use VanceAI Photo Colorizer or VanceAI Photo Restorer to bring old photos back to life with AI restoration technology. Also, their picture colorizer uses AI colorization algorithms that have been trained on millions of black and white photos and colorful images to give natural and realistic color to your old photos.