Topaz Labs Review and 5 Best Alternatives
Topaz Labs has an impressive library of software applications that assist in various kinds of image editing works though the Topaz Labs software applications do cost a fair amount of money. Although, what is Topaz Labs? It is an AI based product that is designed for image editing and enhancement. In the Topaz Labs review, we will put this tool in contrast with Vance AI, which is also an AI based image editing and enhancement application available both offline and online.
Topaz Labs Review
What is Topaz Labs?
Topaz Labs is one of the most well-known software applications such as Photoshop when it comes to image editing, enhancement, and more. It is a paid application that works on Windows, iOS, and it is also usable as a plugin for Photoshop and Lightroom applications. It is a versatile offline software tool that can be used for many purposes as it includes AI based image processing for pretty much every task.
Topaz Labs Tutorial
Now, we will give you a succinct overview of the Topaz Labs studio and its various aspects.
Price: You can purchase this application at $59.99 from the current discount or get a free trial from the website itself.
The Topaz Labs studio is a huge product that has specific features like Gigapixel AI that handle specific image editing and enhancement tasks. When considering this tool, it is mainly used for sharpening images through the elimination of imperfections like blur, noise, etc. As seen from the web page, it is exceptional at catching different kinds of images and still enhancing them. It can increase sharpness, color depth, remove blurs, and more. It is also capable of restoring details to an image that may have been taken in a hurry hence lost its sharpness.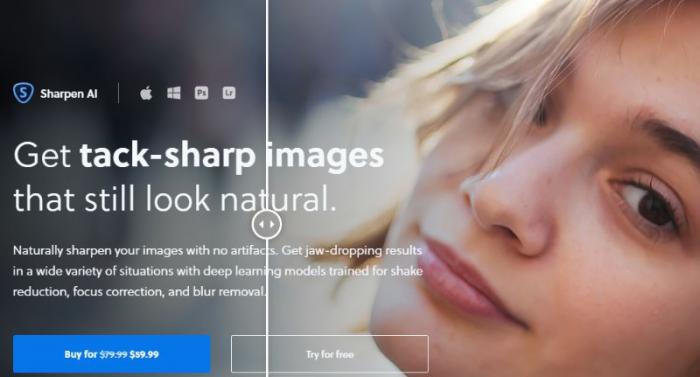 Pros:
It is a popular and sophisticated tool.
Great UI design online and offline.
Multiple features.
Cons:
It can be really expensive for beginners.
Doesn't do well with landscapes.
Takes time to process images.
Price: This Topaz Labs tool costs $79.99. Users can alternatively go for the free trial first and choose to buy later.
This particular application is responsible for fixing any issues that images face such as high levels of image noise. It also implements AI technology to read images in as much detail as possible. The system has been used to convert nearly a million images and hence it is really competent in replicating the minute details of any image. It can also make an image appear from different ISO settings. You can also try out this tool online itself, without having to download the free trial. Simply scroll down and you will find the upload function.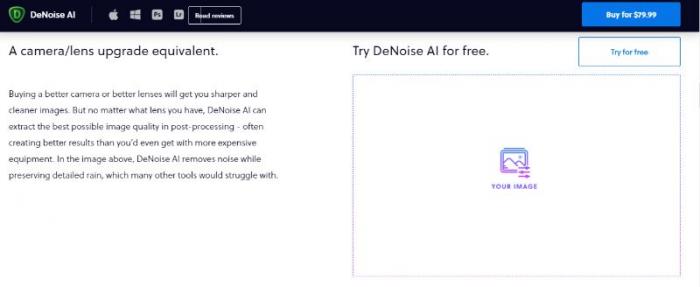 Pros:
Has an online tool for free.
Great results.
Reliable tool.
Cons:
Too expensive for a denoise tool.
Doesn't have many features.
Slow application.
Price: The Topaz Labs Gigapixel AI software application tool costs $99.99. However, it also offers a free trial similar to other Topaz Labs studio tools.
This particular application basically takes the Topaz Sharpen AI tool one step further by introducing the concept of enlarging images. With this software, users can expect to enlarge images up to 600%. Even with this staggering number increase in resolution, the tool maintains the image quality in a way that doesn't make the bigger image less detailed. It uses its AI techniques to keep enhancing the image as it increases in size.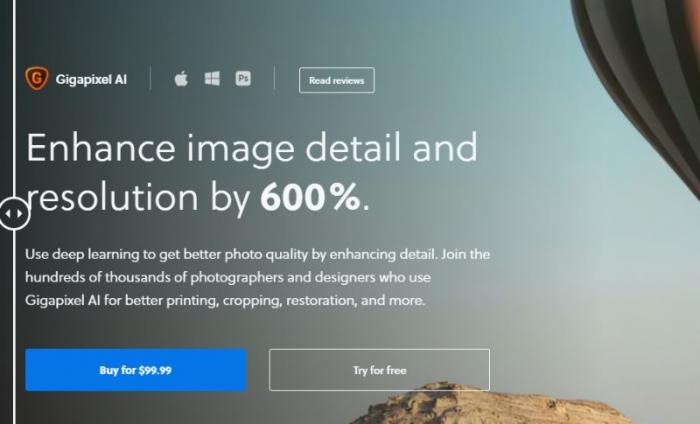 Pros:
Offers a huge percentage of resolution increase.
Uses AI based technology well.
Can be usable for prints.
Cons:
Takes time to process.
Does not work well on all kinds of images.
It can be expensive for non-professionals.
Price: You can purchase this Topaz Labs tool for $79.99 or get a free trial version first for testing.
The Adjust AI from Topaz Labs studio is essentially an application that features many options for making your images look cooler or just different, thanks to its wide range of filters that it offers. As the name suggests, you can tinker around with various aspects of an image in order to really bring out the life and present it. You can perhaps highlight the clean blue water of a lake or the eyes of a person in a portrait. Again, this tool is powered by AI so you don't have to worry about spending too much time editing and less time sharing. The AI is also powerful enough to enable users to edit complex photos with enough ease.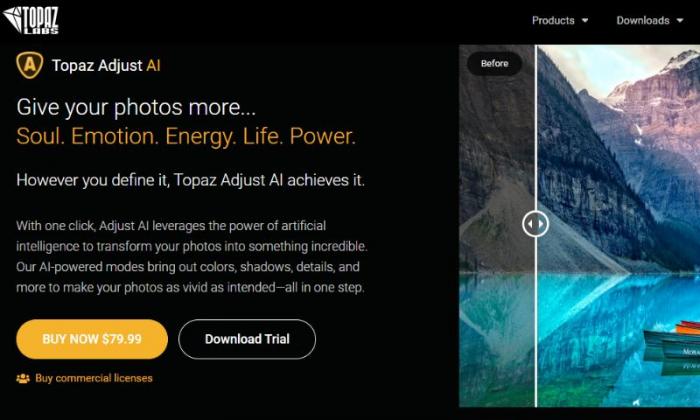 Pros:
An essential editing tool.
Worth the investment.
It is one of the unique tools from Topaz.
Cons:
The manual editing can be frustrating to some.
It needs a comparison image view.
Many filters aren't that great.
Price: This Topaz Labs studio application is available at the price of $99.99 but you can still get the free trial first.
The Mask AI is a more intensive application as compared to the other image editing tools from Topaz Labs studio we have covered so far. The reason for it is that the masking of any object in an image editor requires high accuracy from the user and a high degree of processing resources from the CPU. Even then, this application manages to cut out select parts with remarkable accuracy. These parts can then be used in any other image easily.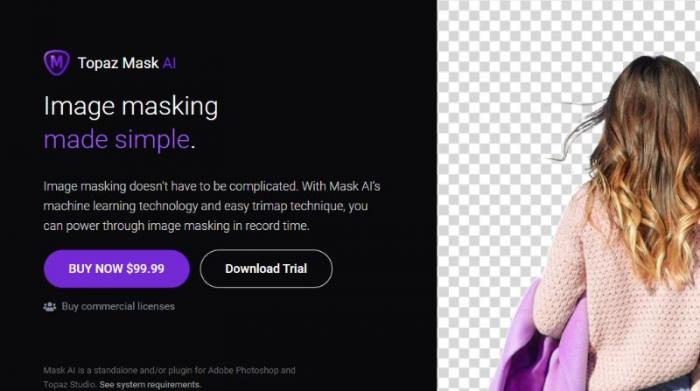 Pros:
It is an important tool for professional editing.
The application is fairly accurate.
It is an AI based feature.
Cons:
It requires manually cutting of areas.
It requires a pretty good system to run smoothly.
It can be a little more on the affordable side.

5 Best Online Alternatives to Topaz Labs from Vance AI
Vance AI is an online image editing product application that is steadily gaining popularity and reputation as a premium editing tool suitable for long-term use thanks to its range of different tools, ease of use, and a brilliant AI and Deep Learning system. It also offers its image enhancer application online as well as offline. You can check the overall product of the photo enhancer by using the link.
Vance AI Alternatives to Topaz Labs
Price: The Vance AI subscription, which includes all applications and features, starts from $9.90 per month for 200 image credits. You can also use it for free three times.
This image sharpening online application is worth using when there are any issues with an image or even when you simply want to polish an image to give it an extra edge. Vance AI is also powered by AI and Deep Learning based algorithms that enable it to produce extraordinary results in a very short span of time. So, with this tool you can definitely unblur images automatically.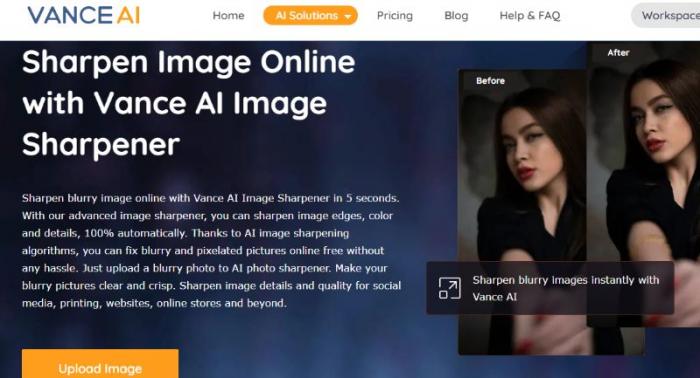 Pros:
You can unblur image online and offline.
Affordable and easy to use.
It can produce great results.
Cons:
Limited free use.
Not advisable for users who want to manually edit.
Sample images can be buggy sometimes.
Price: It has the same pricing system as mentioned above.
As the name suggests, the AI Image Enlarger is best suited for situations wherein you need to upscale an image without losing quality at all. That's the major issue with image upscaling, anyway. It is reasonable that image editing applications have a hard time matching up the increased resolution with the quality but thanks to the AI systems of AI Image Enlarger, it manages to duplicate the same high quality pixels no matter how much the resolution is.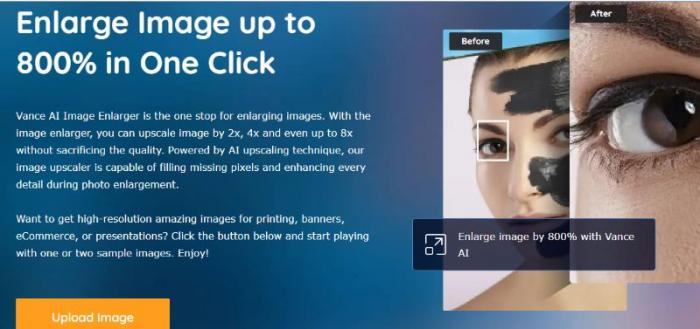 Pros:
Available online and offline.
Easy to use.
Fast processing.
Cons:
Works better on product images than landscapes.
Offline version has more upscaling options.
Could use more features.
This particular application is similar to Topaz Labs studio application for denoising images. With this tool, you can automatically faze out image noise and blur from photos and get an image that is much sharper with visible details. It also utilizes its AI based technologies to produce results quickly, in a matter of seconds. However, you can still go to the settings and choose exactly how much you want to denoise a photo, allowing users to perhaps maintain some level of noise or blur if they are specifically going for that aesthetic.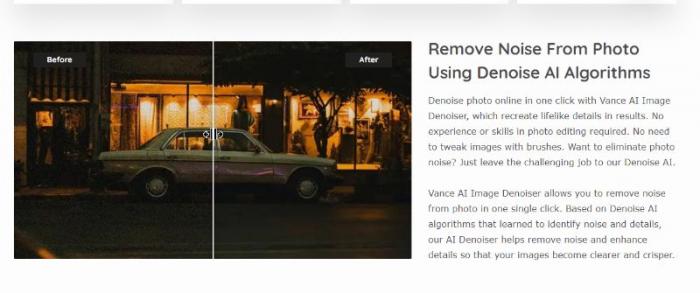 Pros:
Manual settings that have an impact.
Quick processing.
Noticeable changes.
Cons:
Limited free use.
Sample images don't load sometimes.
It could have more image-focused editing.
This feature isn't exclusively presented in Topaz Labs though it is nonetheless an important one. The Background Remover is basically the tool you use when you need to remove a background or at least some object that is blocking the otherwise wonderful view. You can automatically remove background from the image and then use it in another design easily.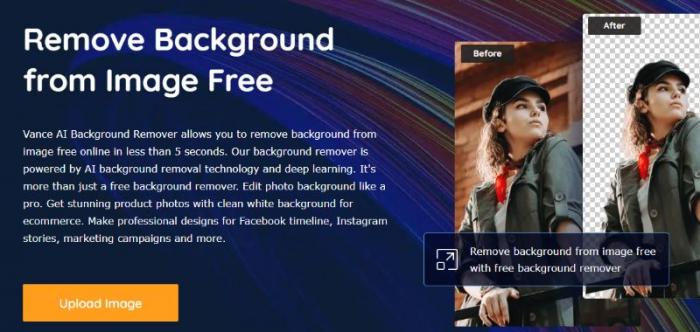 Pros:
Automatic removal.
Quick processing.
Easy to use.
Cons:
No manual editing can deter some professional users.
The output isn't always accurate.
Limited free use.
The AI Image Retoucher is similar to Topaz Labs tool Adjust AI, which is a mixture of image editing and enhancing. While the Adjust AI application requires users to manually change image settings in order to derive something out of it, the AI Image Retoucher is totally automatic. It uses its technology to come up with really good makeovers and produces it within seconds.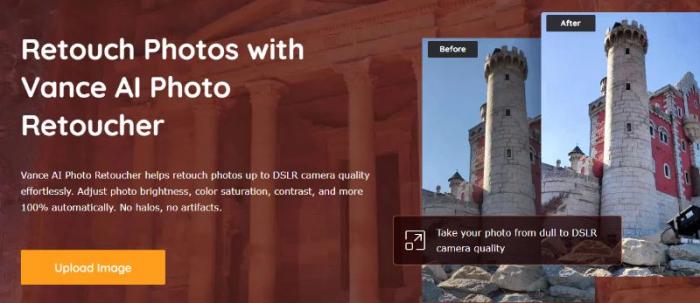 Pros:
Good looking results.
Can enhance any kind of image.
Sophisticated application.
Cons:
Limited free use.
Not available on the offline software application.
It could use minimal manual editing.
Conclusion
In this review and guide, you learnt how to make a blurry picture clear online and more with Vance AI applications as well as had an insightful look at the various applications offered by Topaz Labs. The choice between Vance AI and Topaz Labs also rests on the users. If you are a professional image editor looking for a permanent investment in software, Topaz Labs tools are definitely more suitable. On the other hand, Vance AI applications are best for great results in the shortest time possible, designed in a way that is digestible for everyone. Also read: 3 Ways to Enhance Photos | Selective Photo Enhancers Tools.
FAQs
1. Why is Vance AI the best alternative to Topaz Labs?
Not only does Vance AI use AI based technology like Topaz Labs does, it also has a range of different applications that are directly comparable to Topaz Labs counterparts. When it comes to pure performance, these two are pretty even, where Vance AI outperforms in some cases and Topaz Labs outperforms in other cases.