How to Enlarge an Old Photo and Colorize it Without Photoshop
Until a few years, we knew that if you enlarge old photos, you will expose the old photos to a high risk – you will see a bunch of blurry pixels. But not anymore, thanks to the latest artificial intelligence technology. The process seen so far only in police films, such as in CSI: Crime Scene Investigation, in which the investigation laboratory specialist miraculously reconstructed any blurred image by pressing a few keys from a sophisticated PC, obtaining in a few seconds the portrait of a suspect, is now a reality.
Indeed, nowadays reality beats the film or at least equals it. The image upscaler tool I will present here, it will help you to enlarge old photos, without losing quality. Its developers, VanceAI, are so proud of the results that can be obtained with its help that they have filled the page with comparative examples, each accompanied by detailed information about current methods of enlarging old photos and the differences between them and their own technology. Indeed, the results are amazing.
Developers and users too, claim to enlarge old photos ( or any kind of photos) up to 8x from the original size of the photo. All of this, without losing quality. On contrary, this will be improved. Plus, you can colorize black and white photos online with VanceAI's colorizer tool.
How well does VanceAI work?
The first example is a photo that was enlarged by 4x. You can see the original specifications and the enlarged ones. If you use the magnifier on any portion of the photo, you will see that although the photo is enlarged it is much clearer.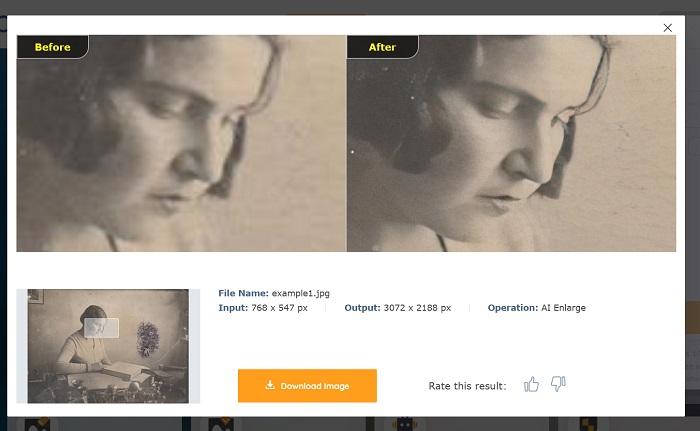 The second picture is enlarged by 4x too and the result it's nothing but great.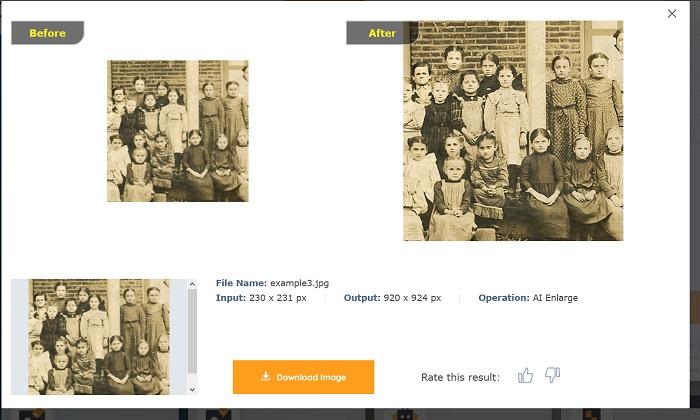 For the third example, I enlarged the photo by 6x and even in this case, the result is it's really satisfying.
Also read: How to Colorize an Image with VanceAI Photo Colorizer.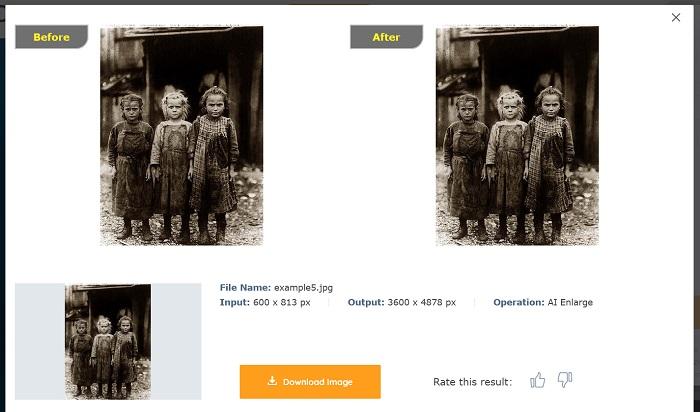 What can I say more? You need to enlarge photos with this tool to see for yourself how this works and how amazing it is. You can get stunning results and this is the very best method to enlarge old photos without losing quality.
You can also colorize black and white photos with this AI, and the result is quite impressive.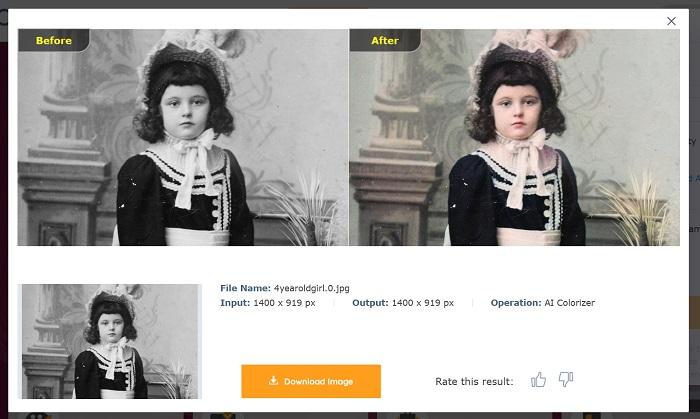 How does it work?
Basically, this AI upscaling method used by VanceAI is filling the missing pixel information when enlarging old photos. This process takes place according to the properties of the existing pixels and according to the AI algorithms that are trained with millions of pictures to recognize and anticipate what needs to be improved, so as to generate a decipherable, clear photo.
How to Upscale Image with AI Image Enlarger
I wondered, how many people who have old photos with their loved ones would like to enlarge old photos just like me? Moreover, to make the pictures clearer. How complicated can this process be? Well, the truth is that enlarging old photos is a process that is very simple. AI upscaling, only with a few clicks, is now possible. The online tool, powered by VanceAI, is one of the best which you can find on the Internet. You can use it for free every month up to 5 photos and your only job is to upload photos and a few clicks. Plus, you are not required to create an account. I propose to follow the whole process of enlarging old photos to see that it can be done by anyone. Learn how to enlarge old photos in less than 5 minutes.
# Step 1
The first step to enlarge old photos is to access the official AI upscaling tool on the VanceAI website.
# Step 2
From the moment you reach the page, click on the " Upload image " button, in order to enlarge old photos.
# Step 3
It is time to upload or drag and drop your photo. Since you are new to this software, you can upload and process only a single photo. You can do a batch upload and selection only if you have a subscription. But, if you are not in a hurry and you don't need to enlarge old photos simultaneously, just upload your picture, select it and then press " Continue ", like in the image below.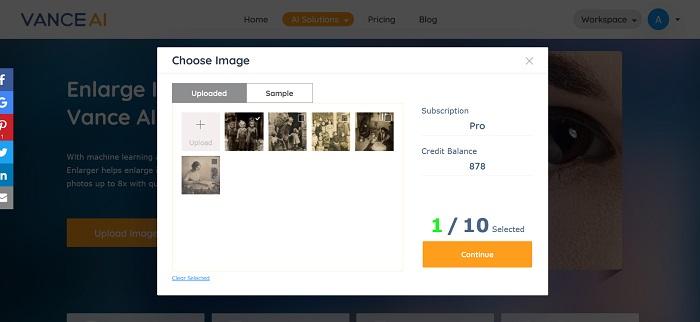 # Step 4
Here, you have to choose how much you want to enlarge old photos from 2x, 4x, 6x, or 8x. My advice is to turn on the button for suppressing noise and removing blur. By doing so, this tool will enlarge old photos without losing quality, on the contrary, even improving them considerably. Click " Start to Process" to enlarge old photographs.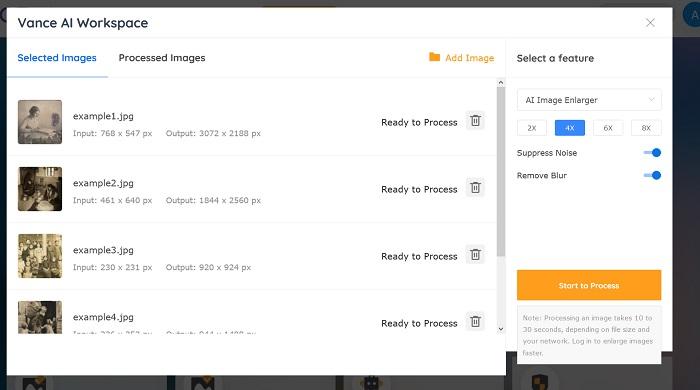 # Step 5
After a couple of seconds, you can download the results. The downloaded photo will be a .jpeg and the output specification will vary depending on how much you have chosen to enlarge the picture. Go to the " Processed Images" section and from there, before downloading, you can compare the original photo with the enlarged one. Let's see the comparison of the examples prepared for this article.
Also read: How to Enlarge an Old Photo and Colorize it Without Photoshop
Conclusion
Upscale image online in seconds and get amazing enlarged old photos! The latest technology used by this AI upscaling online software can help you to enlarge old photos in a matter of seconds. This can be used by individuals and even by and professionals working in visual-focused jobs. This tool is so professional that you can print the enlarged photo without worrying about its quality. Even if you enlarge a 200 x 200 picture three times, the result will not disappoint you.
You can forget about complicated tools like Photoshop and make your life easier with VanceAI Image Upscaler. Either you will use the free version of this software that comes with some limitations, or you will opt for a subscription, you will be as amazed as I am. Whatever you choose, you can enlarge images for free, in order to see for yourself how easy is to enlarge old photos. Enlarging old photos and then colorize it while increasing image quality is a whole new level of perfection. Also read: How to Depixelate an Image Without Photoshop?