How to Restore Old Photo from Unsplash with Colourise.com
Pictures are really essential to not just businesses and designers but also to individuals for many personal reasons. So, when we talk about photos, the black and white or rather the 'old' photos often come to mind as they are both aesthetically pleasing and nostalgic. Of course, the camera wasn't so advanced as to capture memories in the fine-tuned manner that the camera of today does, so we have a lot of old photos waiting to be restored.
With Colourise.com, you do not have to worry about how to restore old photo, just which photo to restore. There is a considerable demand for restoring old photos into colored ones. Besides that, the old-school vintage images are aesthetically gold right now, to the extent that they end up trending over Unsplash. Needless to say, an application to restore old photos is definitely something you'd want. Therefore, let's go through colourise.com, its features, and everything else it has to offer for the purpose of getting a thorough verdict for users.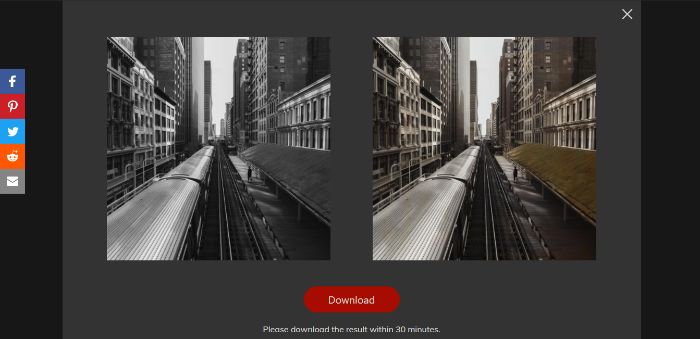 How to restore old photo with

Colourise.com
1.The first thing you'd want to do is visit the website to restore old photos. There are a couple of interesting things that you can try out. The sample image with the slider displays the results of the AI-powered tool. Other than that, you can use the social media sidebar at the left for various tasks.
2.You can click on Start Now at the top of the page to reach the software itself. On there, you will see a big dropbox tool that you can use by clicking on it. Either click on it to select an image from the window prompt or drag and drop the image into dropbox, both options work.
3.The website says that your images need to be within 1200x1200 px of resolutions and 5 MB of size. You can upload images that do not meet the requirements anyway since the tool recompresses or resizes the images automatically to meet its requirements. However, make sure that the images come under jpeg, jpg, or png image file format categories.
4.Upload your image or choose any one of the images provided below the dropbox by the website and wait for it to process.
5.After that, you will see the contrasting view of both images for comparison. The website will delete the uploaded image within 30 minutes of upload as a security step, so keep in mind to download the restored image. You can download the image by clicking on the Download button.
Also read: How to Restore Old Pictures with Vance AI Picture Restorer?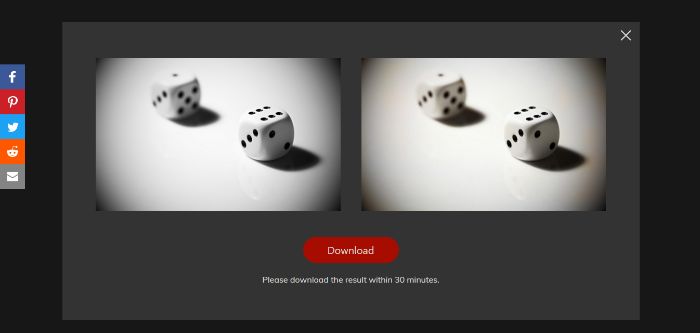 Colourise.com Overview
Colourise.com lets you colorize black and white photos free, as it is also a fully online piece of software. The technology behind the software dictates the inner workings of the software and consequently how the images turn out. Speaking of colourise.com, the technology it uses is called Generative Adversarial Networks, or GAN in short. This is a Machine Learning based technique that is responsible for analyzing each part of an image and giving those parts realistic characteristics, which means colour in this case. That calls for complex processing but luckily, you can simply restore old photos online without worrying about heavy downloads and installations. GANs are at the least capable at their objective, have found extensive use in visually rich mediums such as video games, art, fashion, and even science.
This online software is free to use the software. You can repeatedly use it for restoring old photos without having to deal with any account sign-ups. Not to mention that the software does not even add a subtle yet bothersome watermark to your images. This is definitely a rare occurrence when it comes to applications that promise free use.
Colourise.com is a relatively new online software and therefore does not have web pages on web pages filled into its website. All the necessary information is packed neatly on its home page with an example image of how the tool works in restoring old photos. The UI looks good and does not take time to load, which is great for any online tool. For most tips, you can check out: How to Convert Black and White Photo to Color Online Free?

Verdict
Colourise.com is a top-notch online software to restore old photo. It certainly lives up to all the expectations you would have. The images presented here have impressive turn-outs, especially the second image with the die. The difference between the images is acute but important nonetheless. It just goes to show that the technology behind this piece of software is proficient with numerous kinds of images.
Speaking of other features, Colourise.com does not disappoint there either. The nature of this tool is that of being an online free application, which it easily is. There were no hiccups at any point of using this tool, no downloads, sign-ups, watermarks, or any other common problems you'd usually face with such tools. Additionally, the UI design is smooth as butter. In a conclusion, colourise.com is easily an application worth recommending and using on a regular basis for all kinds of restoring old photos needs. Check out another post: How to Change Image Color for Marilyn Monroe with AI Color Changer?