How to Make Pictures Come to Life - Best 5 Ways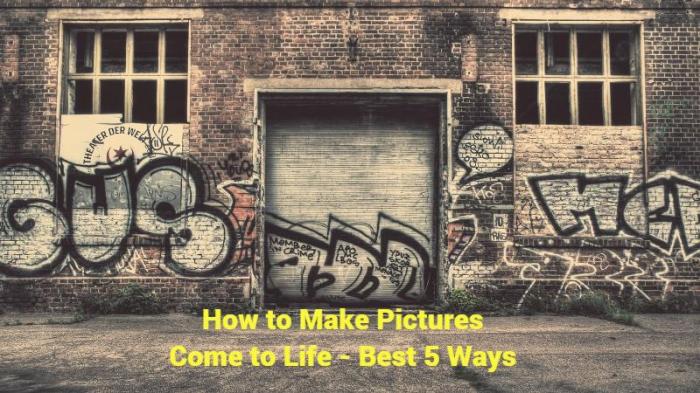 An app that brings pictures to life used to seem next to impossible before but now, with amazing new technologies such as AI and Deep Learning, you can not only make pictures come to life but do it in a matter of seconds. Also, there are a few concrete reasons as to why you'd want to make pictures come to life. For one, they can bring a significant boost to your content on the Internet, whether you are a casual user or a professional marketer. You can use AI tools for photo restoration in order to relive precious memories of family or places you used to be in. With that said, let's take a look at the best apps you can use to make pictures come to life.
How to make Pictures come to life with 5 Ways?
Price: You can bring old photos to life with this online app though with some limitations. In order to get access to all features and more image credits, you will need to make an account and buy the premium version.
As the name suggests, MyHeritage is an online platform meant for all things related to family history and heritage. This extends to the app offering similar tools such as old photo restoration, black and white photo colorization, and more. Not to mention that it also offers a rather unique feature that animates old family portraits by using the latest image processing technology. The tools are easy to use and process images automatically. Other than that, you can also find out your ancestry from this app.
How to use:
1. Use the link to access the website and go to Photos. Select the feature you want to use.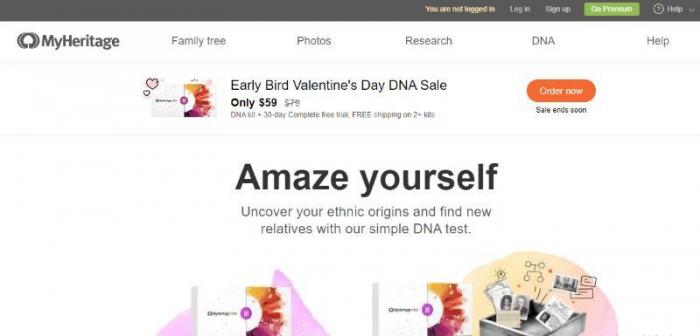 2. Click on the upload button or drop an image directly. The app will process the image and display the result.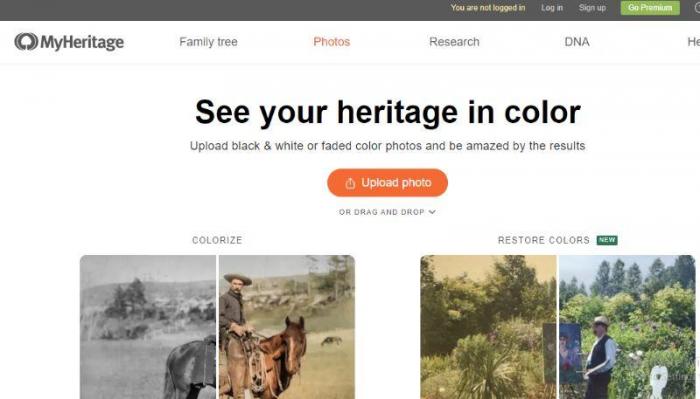 3. Use the download button to save the image.
Price: VanceAI is an online product that offers many applications. The free version offers three image credits per month. The paid subscriptions start from $9.99 per month and offer more credits with more features.
VanceAI tends to be an excellent choice for most because this online old photo restoration website offers other useful tools such as black and white photo colorizer, photo to sketch and anime converter, image enlarger, etc along with photo restoration. Not to mention that all of these tools run on advanced technologies and algorithms based on AI, Deep Learning, GANs, and more in order to give the best possible result in the quickest time. Finally, the app also has frequent sales so you can easily pick up the $9.99 plan for even less.
How to use:
1. Go to VanceAI website, click on the link given to reach the photo restorer and click on Start Now to open the VanceAI Workspace.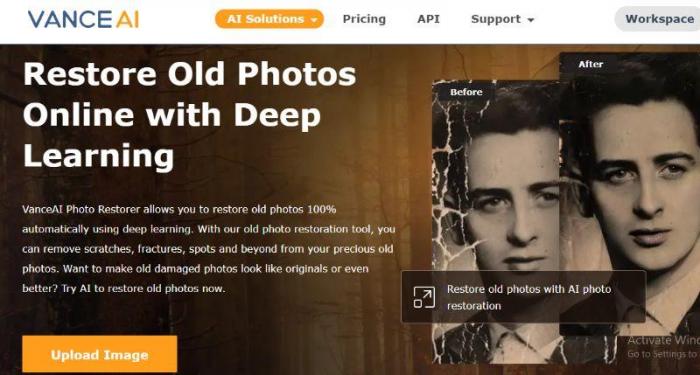 2. Use the upload function or drop an image. After that, click on Start to Process to proceed. In addition, you can also switch from photo restorer to VanceAI Photo Colorizer from the menu on the right.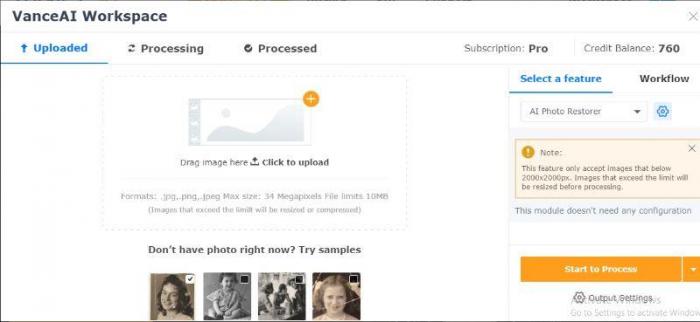 3. The app will ready your image and place it under the Processed tab. Go there, click on Preview, and use the Download Image option to save the image.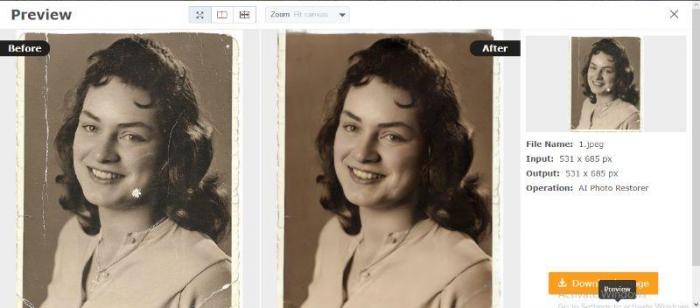 Price: While the online application allows users to make pictures come to life without payment, it does so only for personal use. If you want to use those images commercially, there are payments involved.
Hotpot is an app that brings pictures to life and it manages to do so by giving users ease of use and convenience. Being powered by AI technology, as you can see from the name, the app can automatically deliver results and users only need to upload their image. Another great aspect of this application is that similar to VanceAI, it offers multiple creative and useful tools for you to try. Also, it offers an API version of the app like VanceAI as well.
How to use:
1. Once you access the website, scroll down and use the upload button to select files from your device.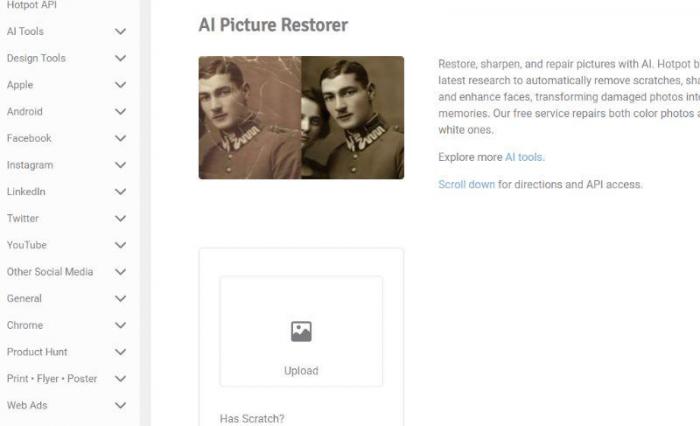 2. After uploading the image, you can manage a few settings and click on the Restore button. The app will process the image.
3. Your result will be displayed on the right and you can use the Download option to save the image.
Price: The image editor offers up to eight free credits and limited features for free. The paid options begin from $6 per month with more features.
ImageColorizer offers a decent amount of features and tools that can help you make pictures come to life. With a smooth working UI and AI based image processing technology, users can expect to get consistently decent results without waiting too much. This application can enhance photos, restore them, color them, and more. The application is also available on Windows, Mac, and mobile devices, besides the online module. You can bring old photos to life with just a few clicks through this online website.
How to use:
1. Go to the website by clicking the link given above. Select the feature that you want to use and click on that.
2. Upload the image and change a few settings if you want to. Otherwise, proceed by clicking on the enhance button.
3. Download the result by clicking on the download option given.
Price: The image editing software offers a free trial, which can be downloaded from the website. As for subscriptions, they start from only a dollar per month for personal use and go upwards.
This is an app that brings pictures to life and can offer some sophisticated tools as well. The software offers tools such as photo resizers, photo unblur, red eye removal, and more. When it comes to the application itself, it has an easy to understand UI which isn't too demanding on the user. You can bring pictures back to life with a simple upload and a few clicks.
How to use:
1. Download and install the software by getting the setup from the website.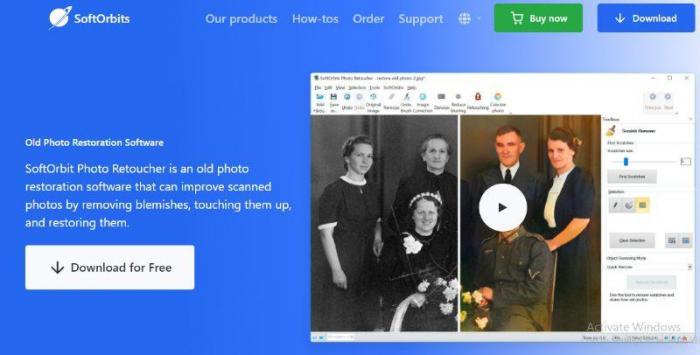 2. Launch the software and open an image using the File menu. Use the settings on the right to adjust the image.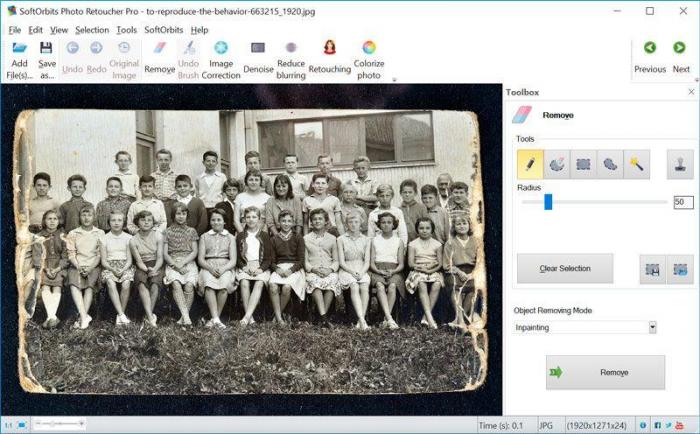 3. Export the image to save it in your device.
Read more: Best AI Online Old Photo Restoration Tools Review from TopTen.AI
Conclusion
These applications will bring pictures to life at a good pace and still offer good looking results. When it comes to applications such as VanceAI Photo Restorer and Hotpot.AI, you can not only benefit from the photo restoration tool, but also from all other creative tools that come along with it. If you are a creative or a designer, you should definitely give these two a look. On the other hand, an application like MyHeritage is specialized in tools that relate to family photos or history.
FAQs
1. What is the best app that brings pictures to life?
If we consider the pure results, there are a couple of applications that offer the best results consistently. Those two apps are MyHeritage and VanceAI Photo Restorer. The reason being that these two apps use the most advanced algorithms of AI and Deep Learning for image processing. Also, they both offer multiple tools for photo enhancement. Also read: Best 10 Tips on Digital Photo Restoration.