Photo Colorization of Famous Monochrome Paintings with Colourise.com
I love art. I breathe art, I eat art. And if you read this article it means that you are alike. That's why my curiosity and passion pushed me to use Colourise.com to do a photo colorization of some famous monochrome paintings in the world.
I downloaded some photos with the paintings that I considered the most interesting and at the same time I had the opportunity to test if this tool can colorize photo online free and offer ideal result. This web service can be used by photographers, by history buffs, by anyone who wants to restore some old black & white photos. It is dedicated even for businesses and designers too. Also, it can work on drawings, paintings, gaming stills, and so on. This free tool has the ability to predict colors in an automatic way thanks to the latest image colorization deep learning technology. You can also check out the 5 best AI tools for colorization in this post: Selective AI Picture Colorizers.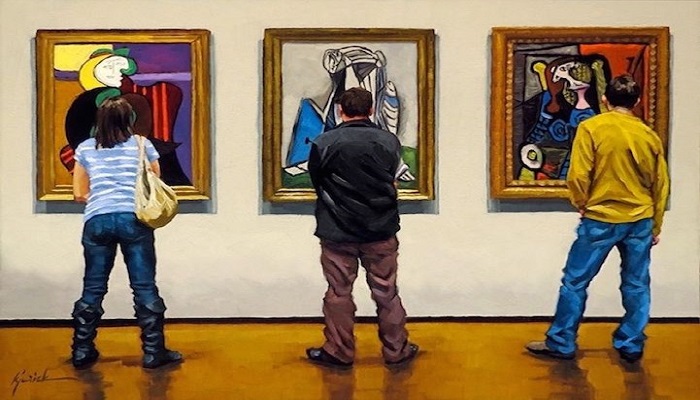 How to use AI colorize for Photo Colorization
You will see that the interaction with this site is easy and friendly. Everything is straightforward and there is no need to register. The photo colorization process is happening fast and you just have to upload the picture. This is all you need to do. Start the image colorization following this tutorial:
# Step 1
Access the homepage of Colourise and click the "Start Now" button in order to do a photo colorization of a vintage B&W one.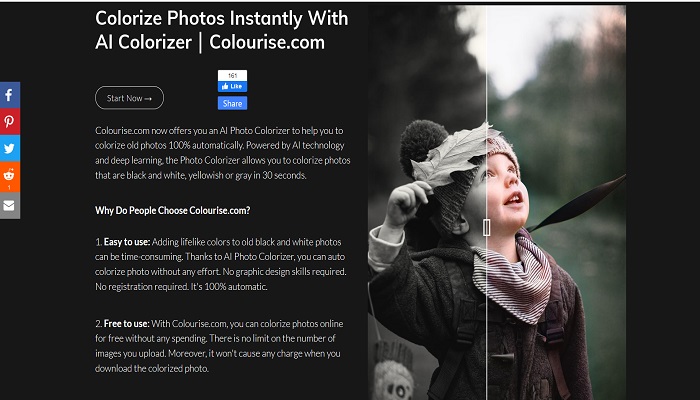 # Step 2
Now it`s time to upload or drag the image, in order to proceed to the photo colorization step. Make sure that you file is in a .JPG or .PNG format, up to 5MB.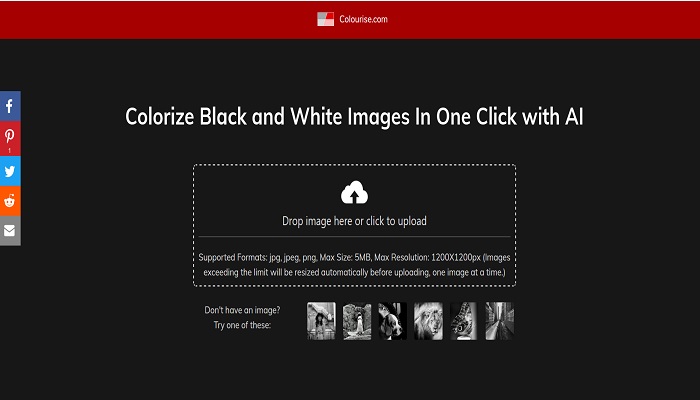 # Step 3
In a few seconds, this tool will do an automatic image colorization. You will wait a few seconds.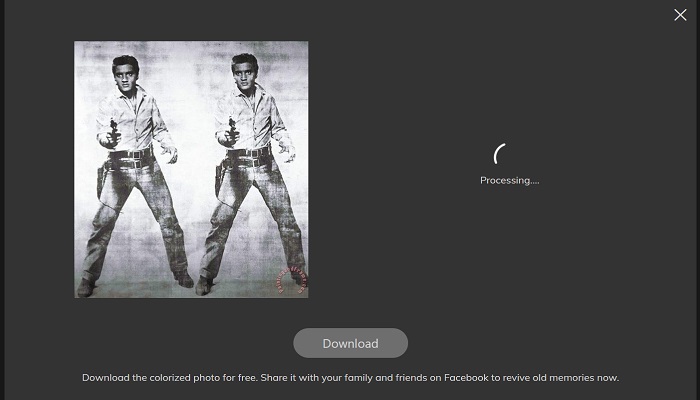 At this point, you will be able to download it. The colorization was a success. Just click the "Download" button and that was it. Do not forget to download the picture within 30 minutes. If not, it will be permanently deleted.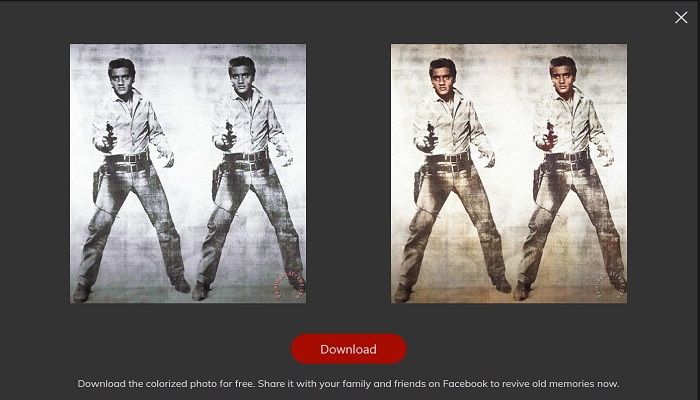 In this case, I uploaded a photo of a famous painting life-sized portrait with Elvis Presley. The original painting made by Andy Warhol is in a silvery monochromatic palette and it is called "Double Elvis", made in the early 1960s. We are not dealing with bright colors, but with this image colorization online software it seems that gave the painting a spark. Also, apparently, you have the impression that it was made a great job to colourise photos. In my opinion, the skin tone looks great, also.
My next example is a famous work of art painted by Picasso.
Between 1936 and 1939, the Spanish Civil War took place between republican and "nationalist" forces, a conflict in which the Basque town of Guernica was destroyed, an event that led to the creation of Picasso's best-known work, "Guernica". The image colorization made by Colourise Official is done subtly. Now it is more reddish-brown and I really like it. The fact that an orange-red streak appeared in the middle of the photo reminds me of the victims of that war.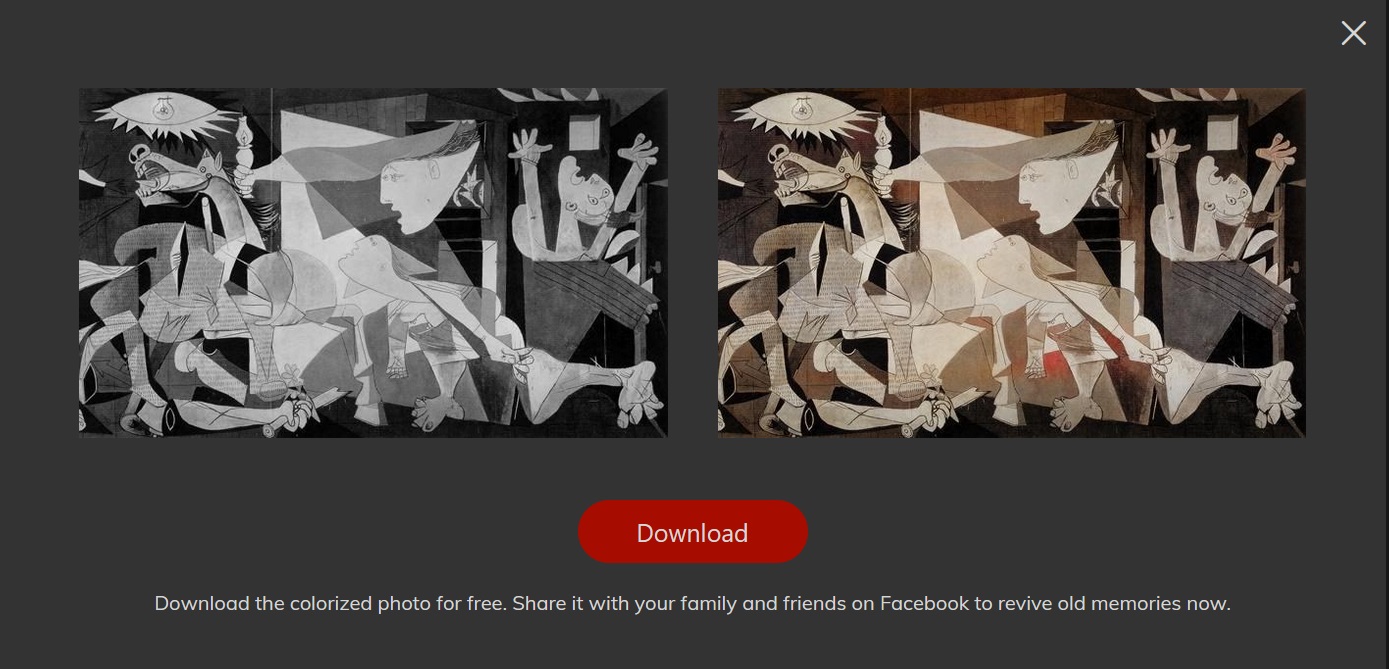 * Photo colorization is free for up to 3 photos. After that, if you want to explore more how this software generates an automatic image colorization, you need to share or like the Colourise.com product on Facebook.
Colorization with this product has many advantages:
free and fast

automatic image colorization

no registration need if you want an old photo colorization

can be used best to restore old photos ( B&A, sepia, and so on)

based on AI image colorization deep learning algorithms

all personal photos will be permanently deleted, so no worries about privacy
Conclusion
I hope this tutorial was useful, but you have to keep in mind that this photo colorization tool works with almost 100% accuracy only when uploading photos, not paintings. Apparently, it doesn't let itself be beaten even in the case of some photos paintings. I am pretty satisfied with what this tool managed to generate. Even so, this program is impressive. He is one of the best tools in the process of colorizing old photos. I suggest you test it with an old black & white picture. On this occasion, you can surprise your grandparents or parents. Colorization is creation, so…have fun with Colourise.com.