Best 8 Photo Restoration Software & Online Tools 2023
Restoring old photos is everyone's dream. This is the only way not to lose your precious memories as they fade away with time. By using the listed tools and software, you will be able to remove dust specks, damaged edges, tears, and spills from your old photos. In addition, you can also restore washed-out colours or simply breathe some life into old black and white photos, which is supported by some AI photo enhancer tools like VanceAI.
The goal of Online Photo Restorer is to bring photos back to life without further damaging them or unrealistically colourizing them, which would in fact create more problems than solutions.
I recommend the following 8 restoration software and online tools if you want to restore old photos in 2022:
Top 8 Photo Restoration Software and Online Tool Review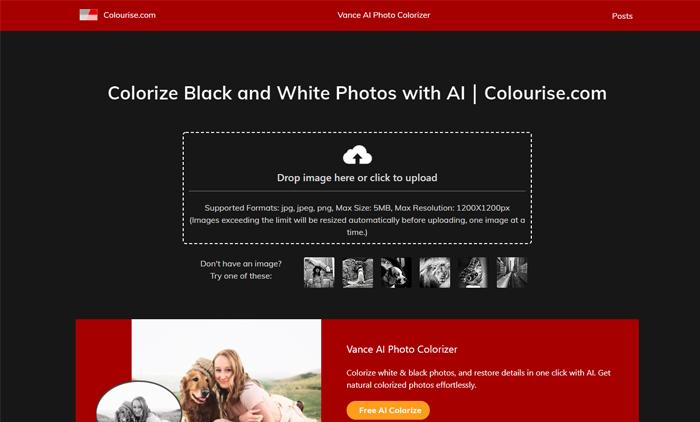 Colourise.com uses artificial intelligence to automatically colourize any image within a couple of seconds. You can quite easily colourize black and white images, no matter their motive – from buildings to old family photos. It will quickly and automatically restore original colours straight in the browser, meaning you do not have to download software. However, you are not limited only to black and white photos; you can also try colourizing faded or sepia shots. Once the colourizing is finished, you can download photos without watermarks.
For more tools to make old photos come alive, refer to Best 7 Selective AI Picture Colorizers Review.
PROS
Doesn't work only on black and white
100% automatic
No watermarks
CONS
Limited to 1200 × 1200 px images
No bulk colourizing
VanceAI is a popular suite of online tools that help enhance any business' workflow. Their Photo Colorizer lets you quickly and automatically colorize black and white photos and other any discoloured images within 30 seconds. My only objection towards this tool is that it does not always properly recognize all human skin. For example, it sometimes colours the face just fine, but then forgets an arm or neck. A very nice feature is batch colourizing, but this tool costs about $0.05/image and is limited to smaller images.
Being processed by a colorizing tool like VanceAI Photo Colorizer can not make your damaged old photos get enhanced. That's why you need a professional tool to repair them. VanceAI Photo Restorer is exactly what you need before colorizing. It is an AI tool to turn old photo to new photo by removing scratches.

PROS
Batch colourizing
Inexpensive ($0.05/image)
Great for businesses
CONS
Limited to smaller images
Does not always get it right
Not free
Also read: Top 15 AI Photo Colorizers to Colorize Black and White Photos 2022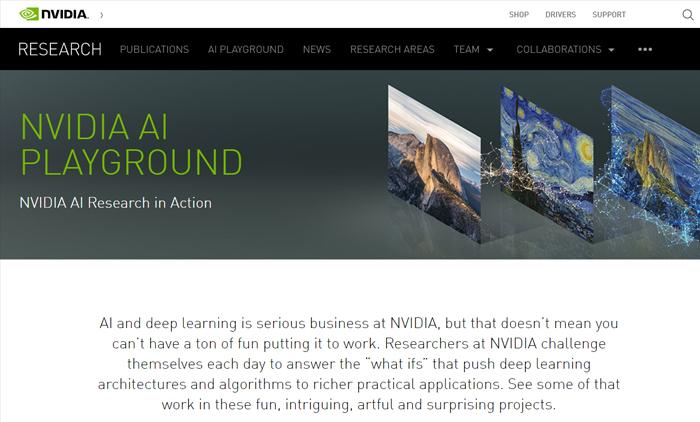 Nvidia Image Inpainting is part of Nvidia AI Playground, a suite of deep learning software, that helps edit images. This new tool produces realistic results via a partial convolution algorithm. Not only can it colourize images, but also remove people and disturbing objects from your images. With the help of AI, it fills in the missing part of images, thus making them look realistic again.
PROS
Free and online
Allows masking
CONS
Automatically crops images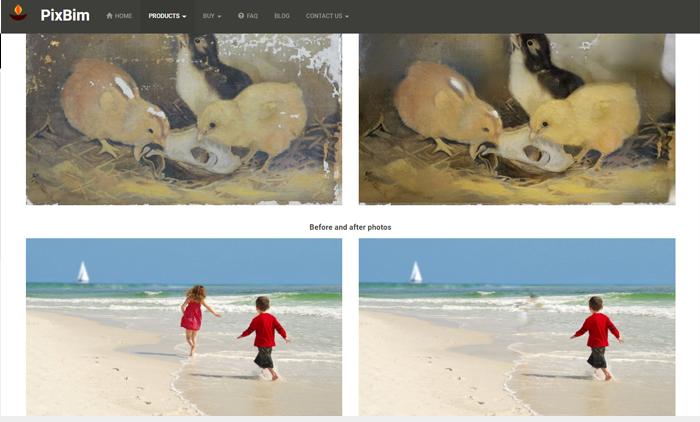 Pixbim Object Remover AI is capable of removing objects, texts, and other unwanted artefacts from your images, resulting in well-restored images. It can also fix tears and spots, remove scratches, and automatically fix colours and noise. It is not an online tool, but you rather have to download software to use. You can either use the free version or purchase a premium Object Remover AI for $37.99.
PROS
Fixes variety of issues
Easy to use
CONS
Need to be downloaded
Paid tool
Not very good at object removal

VanceAI Photo Restorer is a web-based online tool with a clean interface and packed with automatic enhancement features. When you use it to remove scratches from old photos, fractures, spots and etc. on your precious old photos, you will also benefit from its automatic portrait enhancement and color sharpness, which is especially useful for old photo restoration.
PROS
Easy to use
Inexpensive
Great for beginners
Apply portrait enhancement and color sharpness to old photos as well
CONS
Limited free images (only 3)
Limited file size and formats
Read More about VanceAI.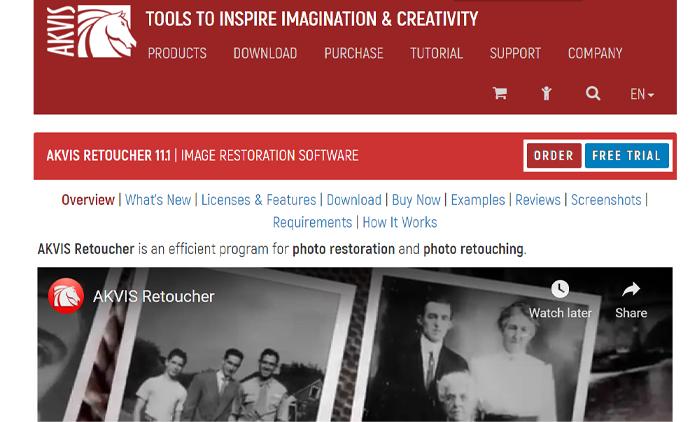 AKVIS Retoucher is yet another online tool that specializes in old photo restoration. While it can remove stains, tears, dust, scratches, and other defects on damaged images, it also able to reconstruct missing parts of images by analysing their surroundings. As it is able to remove date stamps and other unwanted objects, it is perfect for improving photo composition. It is available both for Windows and Mac as a plugin and standalone apps with a 10-day free trial.
PROS
10-day free trial with all features
Advanced settings
Automatic touch-up
CONS
Does not work online
No permanently free version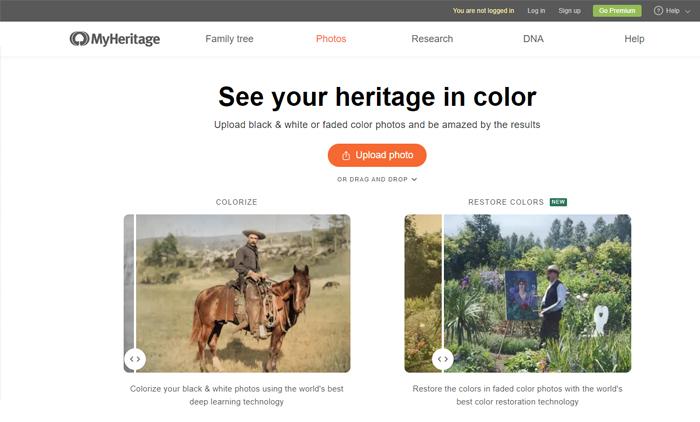 MyHeritage is a popular that can help you discover your origins by sending a DNA sample. However, recently they published a new tool that allows you to colourize your old photos or photos of your (great)-ancestors. For users with their Complete plan, Incolor is available for unlimited photos; however, free users may restore colours in up to 10 photos for free. Unfortunately, the resulting quality is not that great. Results are often not properly colourized and lose some image quality.
PROS
Free, but for only 10 images
Unlimited for Completed plan users
Automatic
CONS
Does not accurately restore colours
Degrades image quality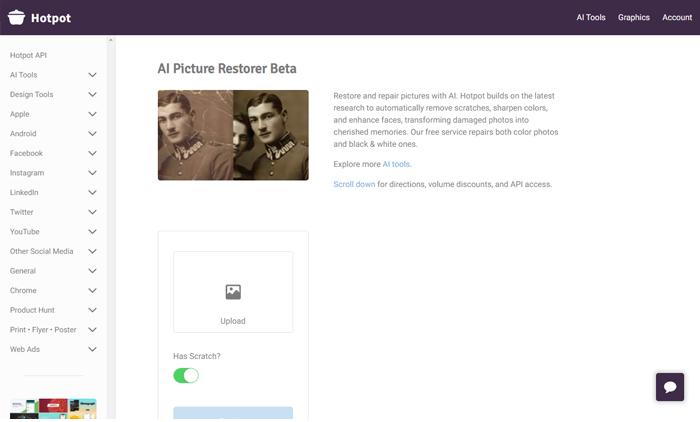 Hotpot has its own AI Picture Restorer which is now in Beta version. With this tool, you can restore and repair any picture with artificial intelligence within seconds. The tool does not only restore colours but also sharpens photos, removes scratches, enhances faces. AI Picture Restorer is a free tool (for now) and it works on both black and white and colour photos. In addition, it offers API access, so you can add their service to your website.
PROS
Works on any photo
Free
Removes damage to photos as well
CONS
Max resolution 1280 × 1280 px
Images are removed after a while
If you are interested, read Best AI Online Old Photo Restoration Tools Review from TopTen.AI
FAQs
AI software is getting better each day; however, a lot of programs are still not efficiently coded, thus missing an opportunity to create good restoration programs. From that standpoint, human image restoration is a lot better than AI. Oftentimes, AI tools make a mistake while restoring old photos, and you do not have an option to fix them – you are stuck with the result. However, human image restoration, when done perfectly, is indistinguishable from the original undamaged image. But here is the catch: Human's restoration takes longer and is therefore also more expensive. For this reason, you can think of it as a luxury.
What is the best photo restoration software?
The best photo restoration software is Nvidia Image Inpainting with its advanced algorithms. Nvidia is always innovating and also publishes papers that back the science behind their tools. This way, they are very transparent about the pros and cons of their tools. Another great tool is also PhotoWorks, with its intuitive photo editing interface.
Conclusion
This concludes the list of the 8 best photo restoration online tools and software. It is good to know that there are nowadays great options that help you fix damaged or faded old photos and make them look new again.
In some cases, you might also want to remove objects, which can easily be done with the majority of listed tools, such as the AI image enhancer tools of VanceAI. All the tools that are paid, offer a free trial, so make sure you test every one of them, before you settle. This is the only way to make the most out of your old and damaged images. Good luck restoring your old memories! Also read: How to Enhance Old Photos with My Heritage Photo Enhancer?